Tools & Techniques
Analytical science
10-Year Views: With Jonathan Sweedler
Sweedler talks shifting authorship geographies, the growth of data science, and developments in single-cell analysis over the past decade
| 4 min read | Interview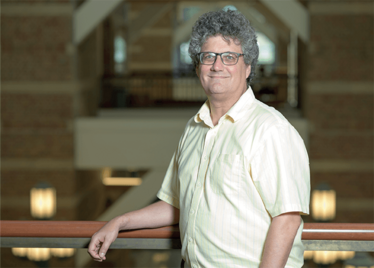 What has been the most significant development in analytical science as a whole over the past 10 years?

During the past decade, analytical chemistry has become more internationally balanced in terms of publication authorship in many journals. With my perspective as Editor of Analytical Chemistry and specifically looking at trends in the journal, almost 70 percent of the articles published in 2012 were from Europe and the Americas, with the US comprising 40 percent of our total manuscripts; China accounted for 14 percent. By the end of 2022, this balance had changed. China had the most publications at about 40 percent and the US accounted for about 25 percent. Reflecting this trend, Analytical Chemistry's editorial team now includes an international team of 19 associate editors, evenly divided between Europe, North America and Asia (and it is close to being gender balanced). The movement towards broadening impact for a larger number of faculty from around the world fuels my optimism for the long-term vibrancy of analytical science.
Looking into the topics published, most of the major subfields of analytical chemistry are well represented in terms of the number of published articles. Informatics and data science deserve special mention. Many areas of measurement science now involve multidimensional data, and work with hyphenated disparate data types and very large datasets. Yes, it is now possible to gather literally terabytes of chemical information on a single sample. Fortunately, with the development of new software tools and informatics pipelines, we can deal with this data onslaught. The last decade has ushered in amazing advances for extracting information from these larger and more complex data sets, from new statistical methods to sophisticated algorithms and machine learning processes, among other computational approaches. These toolsets have proved invaluable to practicing analytical chemists and enable them to manage their data. In addition, better curated and more flexible data repositories are becoming available, although there are still areas within analytical chemistry that either lack such resources or they are not commonly used. More accessible and better curated data repositories should become the norm for all subfields of the analytical sciences.
Were you optimistic back in 2013? Has anything surprised you?

I was optimistic about the field of measurement science in 2013, and I remain so today. My perpetual optimism is driven by the following observations. There has been world-wide growth in educational programs in analytical chemistry and several allied fields, such as bioengineering, environmental science, and applied medical science, with multiple groups in these programs engaging in first-rate analytical research. As a result, many young, innovative scientists are entering the field of measurement science. The hiring of our graduate students remains strong. And finally, in the US, numerous recent national research initiatives have featured measurement technologies. In my opinion, members of our field have lots to be optimistic about in terms of our current status and future potential.
One specific research area that has exceeded my expectation is the chemical measurement of single cells – a focus for me and my group for the past three decades. Progress and accomplishments in this area have greatly accelerated over the past 10 years, with multiple groups making remarkable enhancements to almost all aspects of single-cell mass spectrometry, from characterizing small molecules to proteins, and from improved cell sampling to innovative new informatics tools. In 2013, I had the impression that some researchers found efforts to measure single cells intriguing but not practical or useful. Though single-cell transcriptomics has existed for several decades, studies using this approach have exploded – and the results are transforming many fields of biology and medicine. Perhaps because of the success of single-cell transcriptomics, single-cell chemical measurement has become an exciting goal for many researchers. Publications reporting on cell characterization for a greater range of metabolites, lipids, and proteins have become more common. I expect to see advances in several areas of interest in the coming years, including understanding how networks of neurons interact, when cancer cells spread, and how cell fate is determined in developmental biology.
Besides reaching a greater depth of molecular coverage, I expect single-cell approaches to gain in throughput so that greater numbers of cells can be measured per experiment, enabling more facilities to offer this measurement. Also intriguing: a few studies have interfaced disparate single-cell measurement approaches, such as vibrational spectroscopic imaging with single-cell mass spectrometry. Just by looking at the number of recent reviews and perspectives from leading journals, single-cell chemical characterization is a field that is definitely going places. I am excited to learn what the next few years bring to this rapidly growing field.

Jonathan Sweedler is the James R. Eiszner Family Endowed Chair in Chemistry & Professor of Neuroscience and Molecular & Integrative Physiology, the Beckman Institute, University of Illinois Urbana-Champaign, USA
Receive content, products, events as well as relevant industry updates from The Translational Scientist and its sponsors.