Research Field
Cell & gene therapy,
Neuroscience
Changing the Leopard's Spots
Holding back the "guardian of the genome" opens the gates to more efficient transdifferentiation
James Strachan |
A new transdifferentiation protocol has yielded 60 percent dopaminergic neurons from human fibroblasts after 10 days. The conversion rate achieved by the researchers from the Jacobs School of Medicine and Biomedical Sciences at the University of Buffalo, USA, is a substantial improvement on the five percent in 15–20 days attained via other methods.
Previous studies had found that attenuating the p53 pathway made it much easier to generate induced pluripotent stem cells. "This inspired us to find out whether knocking down p53 would have an effect on transdifferentiation," says Jian Feng, lead author of the study. "And to our surprise, it did."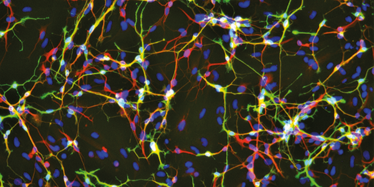 Feng and his colleagues discovered that induction of DNA hydroxylase TET1 underpinned the mechanism behind the remarkable conversion rate. When the researchers knocked down p53 at the right time of the cell cycle (G1), they could induce TET1, which oxidizes cytosine methyl groups and marks them for demethylation. "In essence, the function of these genes is to rewrite the cell's epigenetic information," says Feng. "Each cell state, regardless of the cell type or the age of the cell, is basically a function of the epigenome."
Feng suggests that the transdifferentiation approach taken by his group has significant advantages over the use of induced pluripotent stem cells (iPSCs). "With the iPSC approach you have to understand the developmental biology, and in most cases you have to use mice as a model system because you can't really study developmental biology in humans. This is very slow and painstaking work," says Feng. "With this transdifferentiation strategy, once we identify these kinetic barriers, it will be really exciting to try to find out what transcription factors are needed to generate different types of neuron."
The researchers hope that the novel transdifferention protocol will provide new opportunities for cell-based therapies for Parkinson's disease. One of the major sites of neurodegeneration in Parkinson's patients are the A9 neurons that project from the substantia nigra pars compacta to the dorsal striatum. "The ideal situation is that you take a cell from the skin and specify the epigenome so that it can acquire the A9 phenotype," says Feng. "Now if you put the cell in a patient's substantia nigra, they will grow the axon all the way back to striatum and try to renovate these lost connections. If we can do that, I think it will one day be possible to cure Parkinson's."
Receive content, products, events as well as relevant industry updates from The Translational Scientist and its sponsors.
H. Jiang et al., "Cell cycle and p53 gate the direct conversion of human fibroblasts to dopaminergic neurons", Nat. Commun. 7 (6), 10100 (2015). PMID: 26639555.