Disease Area
Cancer
Does Your Blood Know You Have Cancer?
Detection and monitoring are crucial for melanoma outcomes – could a blood test revolutionize both?
George Lee | | 2 min read | News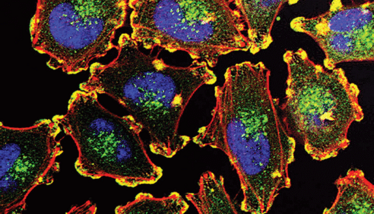 With a recorded history stretching back centuries, melanoma is widely known for its aggression and metastatic capacity. Unsurprisingly, this form of skin cancer is often lethal and has been responsible for millions of deaths across the globe. For those who survive the removal or management of a primary melanoma lesion, monitoring is key – but there is keen interest in developing additional, less invasive methods than standard skin biopsies.
To this end, what could be a simpler prognostic approach than blood testing? Quick, convenient, and easily administered, a blood test for melanoma could potentially transform patient outcomes. In an effort to bring this idea to reality, researchers have successfully detected circulating melanoma cells in blood using a high-yield cell-specific microfluidic device. Using melanoma antibodies, the researchers were able to not only identify the cancer, but even determine the amount of cells remaining in circulation after surgery (1).
"This is the first comprehensive study of circulating tumor cells – or CTCs – to evaluate the efficacy of surgery using microfluidic systems in melanoma, including changes in the number of CTCs, CTC cluster configuration, and gene expression profiling," said Yoon-Tae Kang, first author of the study (2). Kang and colleagues used whole blood from melanoma patients to isolate melanoma circulating tumor cells (MCTCs) and circulating tumor cell clusters for liquid biopsy. The ultimate goal, if successful, was to "isolate, quantify, and analyze the genetic markers of MCTCs before and after melanoma surgical treatment to evaluate the efficacy of surgical treatment (1)."
A microscopic fluid device was used with melanoma antibodies MCAM and MCSP to detect and isolate MCTCs with high reliability. Results showed that melanoma patients have blood MCTC levels over 10 times as high as those of healthy donors. The device was also able to confirm that, in most cases, surgical melanoma treatment leads to a significant reduction in MCTCs. The researchers also investigated melanoma-related gene expression in patient blood samples collected before and after surgery, but there was minimal change in gene expression despite the reduction in MCTC levels.
Receive content, products, events as well as relevant industry updates from The Translational Scientist and its sponsors.
YT Kang et al., Adv. NanoBiomed Res (2022). PMID: 2100083.
Wiley (2022). Available at: https://bit.ly/3IKJi2D.