Outside the Lab
Professional development,
Analytical science
Making a Point of Caring
Sitting Down With… Russ Algar, Associate Professor, Department of Chemistry, University of British Columbia, Vancouver, British Columbia, Canada
| 5 min read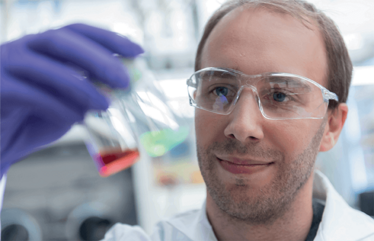 Did you always want to be a scientist?

It was a gradual evolution. Growing up, I didn't know anyone in science and I don't recall any specific media personalities or newsmakers who drew me to the field. A childhood memory book indicates varied career aspirations: graphic design, law enforcement, and aviation. "Scientist" did show up at least once, though! A sustained interest in science – specifically chemistry – began in high school and was catalyzed by a great teacher. By the time university came around, I had decided to double-major in physics and chemistry and eventually zeroed in on becoming a researcher in bioanalytical science.
What is your greatest scientific achievement so far?

Whenever I'm asked which of my scientific papers is my favorite, the answer is, "The one being written." This is because our research is always presenting new challenges, teaching us new things, and reaching new milestones. Assessing some sustained themes of my research: the development of concentric Förster resonance energy transfer is perhaps the most innovative, the work toward smartphone-based molecular diagnostic devices is most likely to impact society, and the studies of how nanoparticle surface chemistry affects enzyme activity are interesting fundamental science. So perhaps my greatest scientific achievement is successfully leading a productive research group.
You've previously mentioned single-molecule detection as an exciting research area – why?

From an analytical perspective, detection limits become less about the smallest reliably measurable quantity of analyte and more about the statistical significance and contextual implications of whatever quantity is measured. Moreover, analytes can be quantitated by counting rather than by calibration curves. This benefit is quite important.
There's a lot of value in assaying molecules in industrial, health, and environmental sectors; however, these measurements typically require a lab facility and training as an analytical scientist. Even with the great progress in easy-to-use portable devices, calibration is still a potential barrier for routine quantitative analyses by industrial, health or environmental workers without formal training in analytical science. Single-molecule detection is becoming increasingly accessible for R&D labs thanks to advances in photonic technology, luminescent materials, and methods with microwells and molecular amplification. For example, digital PCR assays are now commercially available, but still involve substantial costs, multiple user steps, non-robust reagents, and long incubation times. The next challenge is addressing these limitations to enable low-cost, portable, robust, fast, and easy-to-operate devices and methods for calibration-free detection by counting analyte molecules.
What is the single biggest challenge facing your field in 2022 – and beyond?

I think translation is one of the biggest challenges. The gap between the research lab and societal application has always been one of the largest to bridge. For example, the selective detection of single molecules and single cells are great achievements for analytical science, but technologies, workflows, and data interpretation are nontrivial. When and how will a physician or a grocer be able to harness these advancements to check the health of patients or ensure that produce is safe to eat? Analytical scientists develop cutting-edge technology to provide a solution to a problem, but we also need to devise ways of making that solution accessible, simple, and reliable for non-expert users.
Do you have any predictions for your field over the next five to 10 years?

In light of the COVID-19 pandemic, it will be interesting to see the extent to which new biosecurity and biosurveillance technologies will be devised. Will rapid checkpoint-based molecular screening for infectious disease eventually become as common as X-ray machines, metal detectors, and millimeter wave scanners? Indeed, ion mobility spectrometers already offer some molecular screening capability at security and safety checkpoints. And what would prospective biosurveillance technologies aim to detect? Would the technology be limited to known infectious agents or will we have ways to detect unknown agents that could cause the next pandemic?
Field-deployable diagnostics for managing infectious disease outbreaks have been of longstanding interest for public health, but these contexts are somewhat different from an airport implementation, for example. I expect that there will be renewed and expanded interest in biosurveillance – particularly in asking how to screen for undefined viral threats.
Do you have any strong opinions with which the rest of the field tends to disagree?

HPLC-MS can't do everything!
What do you credit most for your success in the early part of your career?

Hard work, persistence, and pride in our work. My team and I have built a culture in which we aspire to make each research project its best – creative, rigorous science with both breadth and detail, clearly and professionally presented. Although some research takes multiple rounds of failure to achieve results, we always gain more knowledge and satisfaction when we eventually succeed.
If you weren't an analytical scientist, what would you be?

I would say computer science or engineering were alternative career paths. Whatever the career, it would need to have substantial creative components, because I receive the most satisfaction from being curious and constructive. Maybe some versions of me end up in fields that combine visual art, design, and creative writing. In any case, I don't think about a career change – analytical science allows me to combine chemistry, physics, biology, engineering, and computer science on a regular basis.
Who would you invite to your dream dinner party?

I would invite people with STEM degrees who pursued atypical, but very cool, careers: Jorge Cham (PhD, mechanical engineering), creator of the web comic strip Piled Higher and Deeper; Naren Shankar (PhD, physics and electrical engineering), writer and producer of multiple sci-fi television shows; Dustin Bates (MSc, avionics engineering), songwriter and frontman for the rock band Starset; and Mae Jemison (BSc, chemical engineering), a medical doctor and the first female African-American astronaut. After the dinner, they would help me with my art skills, guitar playing, plotting a chemistry-centric sci-fi novel, and exploring opportunities for my team's research on new technologies for rural and remote health care.
Receive content, products, events as well as relevant industry updates from The Translational Scientist and its sponsors.