Research Field
Drug discovery,
Drug delivery
Lonely Hearts Club
Researchers in Germany have developed an organoid that emulates the development of the human heart
Jamie Irvine | | 4 min read | Interview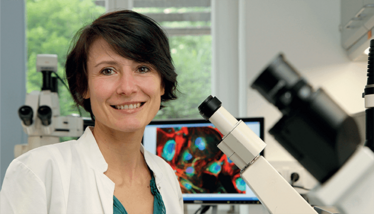 Until now, the mechanisms underlying early epicardial development in humans have remained largely unknown. The human heart forms approximately three weeks after conception, making it almost impossible to study its development in the native context. This led researchers from the Technical University of Munich (TUM) in Germany to develop special organoids – self-organizing human pluripotent stem cell-derived epicardioids to be specific. This work will permit the study of the earliest development phase of the heart and facilitate new research on diseases. We spoke with Allessandra Moretti, Professor of Regenerative Medicine in Cardiovascular Disease at TUM, to find out more.
What inspired you to develop a new human heart model?

The function of the heart is essential to life, and – in my opinion – is endlessly fascinating. The heart is one of the least regenerative organs of the body, meaning that the heart muscle we are born with is only minimally renewed throughout life. For years, this has inspired my research on i) the development of the heart, ii) what causes heart diseases, including complex congenital defects, and iii) how we can treat them. Ultimately, the epicardioid project was born out of a need to develop a better human heart model.
Scientists have long used animal models (mostly rodents) to investigate the mechanisms of heart development and function, but results from such studies cannot always be translated to humans due to differences in organ size, physiology, and gene expression. Human pluripotent stem cells (hPSC) – which can give rise to any cell type of the body in a dish – offer a powerful alternative. However, simple 2D cultures of hPSC-derived heart cells have limited capacity when recapitulating the mechanisms taking place in the environment of the heart, which is why more complex 3D models are needed. In the last decade, scientists have used hPSCs to develop so-called organoids, which are self-organized 3D microtissues recapitulating the cell composition, structure, and function of a given organ.
To this day, the generation of heart organoids has remained challenging compared with other organs. Organoids are typically generated by imitating processes of embryonic development in vitro. This has been particularly difficult for the heart – possibly because cardiogenesis involves the tight spatiotemporal coordination of multiple progenitor populations.
How did you overcome the challenges?

Developing epicardioids was dependent on trial and error, where we would test different strategies inspired by our (incomplete) understanding of embryonic cardiac development, as well as previous advances in the field. The final protocol relies on a precisely controlled spheroid formation with the timed sequential addition of key signaling molecules guiding cardiac induction; among these, we found retinoic acid (a derivative of vitamin A) to play an essential role in the successful formation of the epicardial layer.
In fact, our new epicardioid model is the first to show the morphological and functional self-organization of heart muscle (myocardium) and the outer layer of the heart (epicardium). The epicardium plays key roles in heart development, acting as the source of multiple cell types and important signaling factors, which is recapitulated in epicardioids. Epicardioids, therefore, offer unprecedented possibilities to study human heart development, function, and disease in vitro.
What did you learn about epicardial development from this research?

The most unexpected result from our single-cell RNA-sequencing based analyses of epicardioids, which gave us detailed insights into the identity and gene expression profile of individual cells, is that early epicardioids contain a population corresponding to so-called juxta-cardiac field cells, which were only recently discovered in mouse embryos as a common progenitor pool of the myocardium and epicardium. Our study not only identified these cells in a human setting for the first time, indicating that they may also exist in human embryos, but also confirmed their dual fate potential. We were also excited to observe gene expression patterns and functional properties demonstrating that epicardial cells in epicardioids are indeed closer to their in vivo counterparts than any previously reported hPSC-derived cells.
How could this project potentially help drug discovery and development?

Drug discovery can benefit from refinement of in vitro models, which can increase precision in preclinical trials and thereby lower the chances of selecting candidate drugs that will end up failing in later trials. Our study showed that the complex cell composition and organization of epicardioids gives them the capacity to recapitulate the mechanisms of both stress-induced and congenital ventricular hypertrophy and fibrosis – areas which have been difficult to study in vitro until now. Therefore, they may be useful models to test new therapies for similar conditions.
Currently, we are planning several projects that will use epicardioids to investigate different aspects of heart development and disease, including heart regeneration. In contrast to humans, certain species of lower vertebrates, such as the zebrafish, are capable of rebuilding adult heart muscle after injury. As the epicardium plays central roles in this process, we are hoping to use epicardioids to discover new paths for human epicardium-mediated heart repair.
Receive content, products, events as well as relevant industry updates from The Translational Scientist and its sponsors.