Disease Area
Infectious diseases,
Diagnostics & prognostics,
Public health
Managing Malaria with Smarter Sampling
How targeting subclinical populations with a rapid saliva test may aid in the quest to eradicate the disease
Jonathan James | | Quick Read
Efforts to eradicate certain infectious diseases, such as smallpox and polio, have generally proven fruitful – but one devastating infection remains stubborn in the face of multiple attempts: malaria. Now, researchers believe a simple saliva test that detects the infectious malarial parasite in asymptomatic carriers may provide a new way of looking at disease prevention (1)
Many efforts to tackle malaria have focused on targeting established disease. Rhoel Dinglasan, Associate Professor of Infectious Diseases at the University of Florida Emerging Pathogens Institute and the College of Veterinary Medicine, and also the senior author of the recent paper in Science Translational Medicine, shares the rationale behind his team's alternative approach: "Malaria can be looked at like an iceberg – we can treat the people at the tip of the iceberg with evident disease. But there are many people under the waterline that are contributing to the continuation of the disease, regardless of all the control efforts focused on malaria."
To generate a candidate biomarker list, the researchers performed a cross-sectional, multi-omics study of saliva from 364 children with subclinical infection. Using advanced mass spectrometry-based workflows, the researchers identified 60 proteins that appeared to be secreted into the saliva by the parasite. One in particular – PSSP17 – stood out as a potential biomarker, chiefly because of its relative abundance in all the samples. "We made antibodies to this marker – followed by the development of a simple test in our lab," says Dinglasan. Perhaps more promisingly, the test worked on both fresh and archived samples. "It allows us to analyze a large number of samples after they've been collected," says Dinglasan, who is hopeful that widespread testing of rural populations in Africa could, therefore, be conducted with relative ease.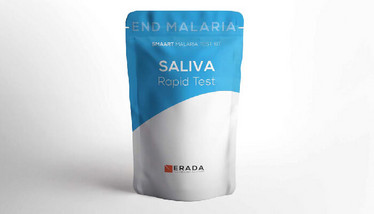 Before going further, the team sought critical feedback. Fortunately, Dinglasan had already been in contact with key stakeholders in the region – in 2009, he'd been involved in a crash course in technology entrepreneurship set up by President Obama's District of Colombia Innovation Corps (DC I-Corps). The real litmus test for the tool was if it could successfully be translated to the clinic – or in this case, the local village. "We set up calls with multiple stakeholders – asking what they would want to see in a diagnostic test. Every time an idea that challenged us was put on the table, we went ahead in incorporating it into the design," says Dinglasan.
With the new and improved "saliva-based point-of-need (PON) lateral flow immunoassay test" in the bag, Dinglasan and his team went in pursuit of commercial backing. Enter ERADA Technology Alliance – a start-up biotech company located in Musina, South Africa. In a twist of fate, ERADA Managing Director, Benji Pretorius, had more than a business interest in the new test; in 2017, he survived a bout of the disease himself. "I was convinced that, if we could do better at detecting the signs and symptoms, we could save a great deal of sickness and suffering," he says. ERADA, with the support of its collaborators, is now putting in place the necessary steps to commercialize the technology. Pretorius is optimistic that the test will be available soon: "We are now in a good place to finalize the saliva-based test – and we plan to launch this much needed diagnostic tool in Africa in the next few years."
What about other infectious diseases? "We're focusing on malaria," says Pretorius. "But our technology, our drive, our vision – they aren't limited to malaria; we can apply many of our strengths to drive progress in other diagnostic areas."
Receive content, products, events as well as relevant industry updates from The Translational Scientist and its sponsors.
D Tao, et al., "A saliva-based rapid test to quantify the infectious subclinical malaria parasite reservoir." Sci. Trans. Med. 11; 473 Epub ahead of print. (2019) PMID: 30602535.
ERADA Technology Alliance, (2019). Available at: www.eradatechnology.com. Accessed January 14, 2014.