Disease Area
Diagnostics & prognostics,
Cancer
Cost-effective Cancer Checks
How population testing of breast and ovarian gene mutations may be the way forward
William Aryitey |
Is screening the entire population a cost-effective way to detect breast cancer mutations? The answer, according to a study by a multi-institutional team of researchers, is yes. "I have been working in the area of population testing for the last 10 years, and there are few interventions in medicine that save both money and lives," says Ranjit Manchanda, Clinical Senior Lecturer, and Consultant Gynecological Oncologist at Barts Cancer Institute. "We have previously shown in a randomized trial that population-based BRCA testing in a Jewish population is effective, acceptable, does not have detrimental effects on psychological well-being or quality of life, and is cost-effective. In fact, in most scenarios, it is cost-saving."
Manchanda and his fellow investigators looked into the cost-effectiveness of bringing this type of testing to the general population in the US and the UK. This step of their research covered BRCA1, BRCA2, RAD51C, RAD51D, BRIP1, and PALB2 gene mutations – all associated with ovarian or breast cancers in women – and found that it was cost-effective to screen these, compared with the willingness-to-pay threshold established by the National Institute for Health and Care Excellence (1)(see Figure 1). The study used an incremental cost-effectiveness ratio (ICER) per quality-adjusted life year (QALY).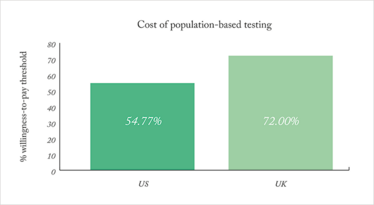 Most importantly, the researchers' findings showed that population-based testing could prevent 1.91 percent of breast cancers and 4.88 percent of ovarian cancers in US women, and 1.86 percent of breast cancers and 3.2 percent of ovarian cancers in UK women.
Although the results are positive, it does not represent all the evidence needed. "We need to do implementation studies in the general population to generate further scientific evidence and demonstrate to policymakers that an appropriate number of women undergo preventive interventions to reduce their risk of cancer (as we find in women tested through high-risk clinics)," Manchanda says.
The researchers are also investigating the most effective and cost-efficient method of making such widespread population testing a reality, whilst investigating the overall impact of population testing on patient lifestyle, quality of life, and psychological wellbeing.
Despite more research being needed, Manchanda feels strongly about the importance of breast and ovarian cancer screenings: "The current system is not efficient at maximizing identification of people at risk. We are currently not exploiting our current technical knowledge and ability to the fullest effect to maximize prevention and save lives. Evaluating new approaches and mechanisms, like population testing, is essential."
Receive content, products, events as well as relevant industry updates from The Translational Scientist and its sponsors.
R Manchanda et al., "Cost-effectiveness of population-based BRCA1, BRCA2, RAD51D, PALB2 mutation testing in unselected general population women", J Natl Cancer Inst, [Epub ahead of print] (2018). PMID: 29361001.