Disease Area
Neurological,
Neuroscience
A Brave New World of Retina Research
Cutting-edge translational retina research for patients in Philadelphia and around the world
Allen C. Ho, Carl D. Regillo |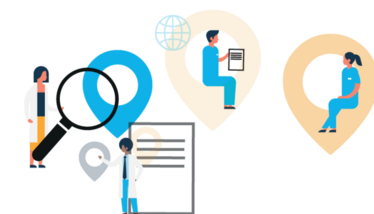 We live in an age where science and technology are advancing fast – but not nearly fast enough for those afflicted by blinding eye conditions. Since its inception in 1832, Wills Eye Hospital has been a leader in patient care, medical education, and translational clinical research (1). But this is no time to rest on our past achievements when there are still so many needs left unfulfilled in our clinics and surgical suites and when translational scientific advances offer potential opportunity for great benefit. These patient needs drive our team – and the whole institution – forward.
As Director of Retina Research at Wills Eye, I lead our innovative collaborations between brilliant Wills Eye Retina specialists, dedicated Wills Retina Research teammates, and industry and global study group partners – all focused on elevating the standards of care for patients in our exam rooms and around the world. Further, our highly sought-after retina fellowship programs continually bring in the best and brightest minds in our field to train with us and challenge the status quo.
Wills Eye Retina is among the most active translational retina clinical trial units in the world. Our patients have access to the latest clinical research because our doctors conceive, design, and lead studies both alone and with partners who share in our mission to elevate standards of care.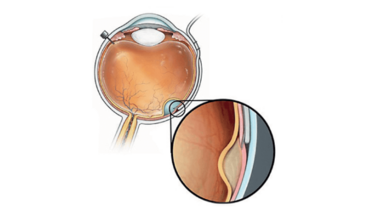 Inspired by patients' courage
We have refined an implantable subretinal microelectrode chip and technology from a biomedical laboratory (designed by my retina colleague Mark Humayun), evolved the surgery procedure in animal surgery labs, and implanted the device, a commercially approved Argus II bionic eye, so that patients blinded by severe retinal degeneration can see again (2).
When you can't see, it's not just your vision that is cut off. My patient Fran utilizes her Argus II daily to navigate her world and connect with others. She no longer has to say "hello" to an empty elevator; she can see if another person is there. Although the Argus II was recently discontinued due to business conditions, we're moving forward on other translational research fronts to attack blindness. The courage of our patients inspires us.
Rigorous, disciplined, driven by science
Stem cells are in vogue – and the lay press often presents them as a cure for almost everything. Dozens of essentially unregulated "stem cell clinics" around the country have surfaced, offering "treatments" with sometimes blinding consequences as highlighted with caution by my partner and Wills retina surgeon Ajay Kuryan (3). In contrast, our independent, safety-monitored (and FDA-approved) clinical trial programs for potential cell therapies are among the most advanced in the world. We have next-generation cell lines for safety and efficacy, delivered using new surgical techniques and tools developed by Wills Eye study leaders and surgeon investigators (4). I am immensely proud of our research team's commitment as we pursue translational solutions to vision loss from advanced AMD. Scientific rigor is what our patients deserve.
The time is now
A patient-centered ecosystem of gene therapy clinical trials is growing around the world, and Wills Eye Hospital and our retina surgeons are leading and at the cutting edge. Philadelphia's own Spark Therapeutics claimed the first approved in-human gene therapy for the Leber congenital amaurosis biallelic RPE65 mutation, led by local colleagues Jean Bennett and Albert Maguire and presented to the FDA by Wills Eye Ophthalmologist in Chief Julia Haller (5). At Wills, we partner with industry to explore gene therapy programs for sight-limiting conditions from the common to the obscure. The preclinical and translational science is impressive and we deliver it to our patients in a portfolio of gene therapy clinical trials.
In my view, there is no better environment in which to pursue these goals than Wills Eye Hospital.
For patients with rare, blinding retinal degenerations, we investigate injectable mRNA silencing strategies and disease disabled viral vectors gene therapies, aiming to attack some of the 250 known genetic mutations responsible for these conditions. In more common diseases such as AMD and diabetic retinopathy, our programs aim to turn the eye itself into an ocular biofactory, using gene therapy by intravitreal or suprachoroidal injection or subretinal surgery to deliver DNA sequences that encode therapeutic proteins. Patients now receive these injections on a monthly basis in our offices and the burden of treatment is high (6). We don't give our patients unrealistic expectations – but we do instill hope, and the preliminary data for these therapies look promising.
We are focused, collaborative, dedicated, and driven by science to deliver the best vision to patients in our hospital and around the world, now and in the future. In my view, there is no better environment in which to pursue these goals than Wills Eye Hospital. We welcome you to come visit with us in action.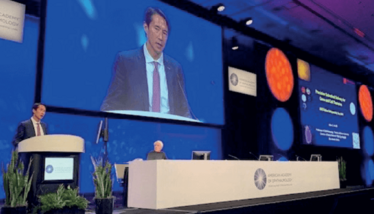 History Still in the Making
By Carl D. Regillo
From early on, Wills Eye has taken part in every major clinical trial in retina, going back to some of the largest and most influential studies, such as the Early Treatment in Diabetic Retinopathy Study (ETDRS) (7), the Diabetic Retinopathy Study (DRS) Landmark Trial (8), and ophthalmitis/vitrectomy studies.
Over the past 25 years, we have participated in many industry-supportive trials, which provide a very productive, collaborative environment. Although Wills Eye's participation is not unique, we have been at the forefront of these trials, involved in every major development in ophthalmology – including treatments that are now used every day, everywhere on the planet. We've also helped bring new surgical technologies and innovations to market. Of course, like any major research center, we've also tested many innovations that have failed! Not everything that is tested comes to fruition. It is the nature of cutting-edge research.
These days, we are still involved in the most important trials in retina. Every year, the Wills Eye Retina Service produces over 40 major, peer-reviewed publications. The magnitude and impact of our research has attracted some of the finest fellow candidates and retina specialists from around the world – and we now even have a dedicated retina research fellowship.
In with the new
Recently, Allen Ho and I, with other colleagues, researched sustained delivery of drugs to the eye for retinal conditions – a project I feel very passionate about. Our successful Phase III program, undertaken with Genentech, involved testing a surgically inserted reservoir that delivers a concentrated version of ranibizumab. In the past month, Genentech announced that the study had met its primary endpoint. This is the first sustained-release platform to deliver a drug to the retina and it is likely to be commercially available within the next year or so. We were closely involved in FDA studies from the very beginning.
More recently, our research has focused on stem cells in the form of suspensions. The suspensions can be injected under the retinas of patients with advanced dry AMD, who have already lost visual acuity to a severe degree. We hope to give them some of their sight back. And that's not all; soon, we'll be involved in Phase II of another exciting stem cell technology coming out of Southern California – a patch of stem cell-derived retinal pigment epithelial cells on a platform that is inserted under the center of the retina in eyes with advanced dry AMD.
Addressing unmet needs
We have made a lot of progress on treating common retinal conditions over the past two decades, but there is room for improvement. We can work toward better outcomes, more efficient and less burdensome therapeutic approaches, and more durable treatments. Unfortunately, there are still many conditions with no treatments at all, such as the very common dry AMD or the much less common inherited retinal diseases (IRD) – both being blinding conditions for which gene therapies are our big hope.
In the future, as well as traditional gene therapy, we hope to see gene editing and enhancements that will allow us to treat some of these devastating hereditary conditions. We have brought in Jose Pulido, a world-renowned retina specialist from Mayo Clinic, to lead IRD diagnostics and therapeutics. We see patients' needs and we see the progress being made with bench research – now, we must bring the two together.
Our mission is to excel in all aspects of clinical care; to offer our patients new and emerging therapies; to provide the best fellowships and training for the future leaders of our field. Only by staying at the cutting edge can we continue to drive the field forward.
Receive content, products, events as well as relevant industry updates from The Translational Scientist and its sponsors.
W Tasman, The History of Wills Eye Hospital, Valley Press: 2002.
AC Ho et al., "Long-term results from an epiretinal prosthesis to restore sight to the blind," Ophthalmology, 122, 1547 (2015). PMID: 26162233.
AE Kuriyan et al., "Vision loss after intravitreal injection of autologous "stem cells" for AMD," N Engl J Med, 376, 1047 (2017). PMID: 28296617.
AC Ho et al., "Experience with a subretinal cell-based therapy in patients with geographic atrophy secondary to age-related macular degeneration," Am J Ophthalmol, 179, 67 (2017). PMID: 28435054.
Spark Therapeutics, "FDA Approves Spark Therapeutics' LUXTURNA (voretigene neparvovec-rzyl), a one-time gene therapy for patients with confirmed biallelic RPE65 mutation-associated retinal dystrophy" (2017). Available at: bit.ly/3fBtnTX.
MA Khan, AC Ho, Retinal Physician, "The Eye as a Biofactory. The Next Phase of Gene Therapy" (2020). Available at: bit.ly/3ia0HTV.
Clinical Trials, "Early Treatment in Diabetic Retinopathy Study (ETDRS)" (2006). Available at: bit.ly/2DAIgsv.
Clinical Trials, "Diabetic Retinopathy Study" (2006). Available at: bit.ly/31kGMek.
---