Tools & Techniques
Diagnostics & prognostics,
Cancer,
Analytical science
Screen Test for Spec
How ATR-FTIR spectroscopy could lead to less invasive cancer prescreening
Joanna Cummings |
A team from Georgia State University are using Fourier transform infrared (FTIR) spectroscopy in attenuated total reflection (ATR) mode to develop a less invasive prescreening test for melanoma and lymphoma. Here, we talk to Regents' Professor of Physics Unil Perera about his hopes for the method.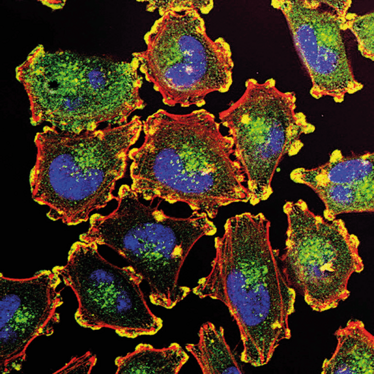 What inspired you to develop a prescreen method?
The earlier we detect cancer, the better. Some screening methods, such as colonoscopies, are the gold standard, but are expensive and uncomfortable – to the point where patients avoid being tested. I wanted to devise a simple screening test that would be less invasive, less uncomfortable, and less costly – as well as capable of screening for more than one disease. One day, I want doctors to be able to screen patients annually; if they detect the markers for cancer, then the patient can be referred for further tests.
How far along is the work?
We have used ATR-FTIR to analyze biochemical changes in the blood serum of mouse models. We have shown in our previous work that we can identify colitis and diabetes – more recently, we were able to detect markers of lymphoma and melanoma and discriminate between healthy mice and those with tumors (1). Potentially, the technique could be applied to many different diseases – but it has yet to be proven on human samples.
What's your ultimate aim?
We want to come up with a portable device/detector that sits in a doctor's office. A patient gives blood, and the doctor checks for indications of a particular cancer. Our goal, ultimately, is that the doctor just needs to put in a drop of blood and get an answer – but that's obviously some years away. Our priority right now is to prove that this works in humans.
What keeps you motivated?
I'm happy to make some contribution to human health – even a minor one. After our cancer paper was published (1), I got an email from one of our faculty members, saying that as a survivor of cancer, she was happy to see that I was doing something on early detection. That was really special.
Receive content, products, events as well as relevant industry updates from The Translational Scientist and its sponsors.
H Ghimire et al., "ATR-FTIR spectral discrimination between normal and tumorous mouse models of lymphoma and melanoma from serum samples", Sci Rep, 7, 16993 (2017).