Research Field
Animal models,
Respiratory,
Pain & critical care,
Biomedical engineering
Womb with a View
Will premature infants soon be able to return to a uterine environment to finish their development?
Roisin McGuigan |
In the developed world, extreme prematurity is the leading cause of death in neonates (1). And for those who do survive, complications related to organ immaturity are common. Some of these problems may be directly caused by the move from the womb to the outside world – for example, breathing gas instead of liquid is related to issues with lung development (2).
New approaches are needed to give premature infants a better start in life – and a host of problems could be addressed by returning infants to the womb – or, more accurately, a womb-like environment. We spoke to Alan Flake, a fetal surgeon at the Center for Fetal Diagnosis and Treatment at Children's Hospital of Philadelphia, who is developing an extra-uterine support device (3) that has so far seen success with fetal lambs (see Figure 1).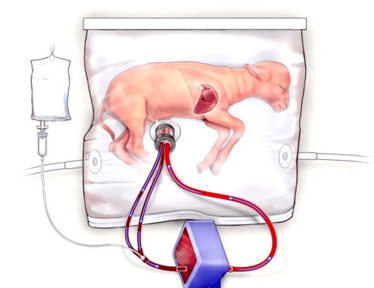 How did you become involved with the project?
I am a fetal surgeon, and my research career has been dedicated to developing new treatments for the fetus. The extreme premature infant is simply a fetus that is born too soon. My fellow, Emily Partridge, wanted to try this strategy and I agreed as it was in line with the goals of my laboratory.
Where does the idea for a womb-like device stem from?
It's actually a very old idea; investigators have been trying to do this for 60 years but none have succeeded. If you view the premature infant as a normal fetus that is delivered early, then finding a way to extend gestation by building a device that replicates the environment of the womb is an obvious approach.
What difficulties were associated with the creation of a womb-like environment?
Many! But whenever we have encountered an obstacle, we have solved it by turning to normal fetal physiology for inspiration. For instance, the key to obtaining a sterile fluid environment was to develop a closed system that exchanged amniotic fluid (like the womb).
To achieve normal fetal circulation, we also had to solve the problems associated with using the umbilical cord, such as vascular spasm. Only by using the cord as the vascular interface can you achieve normal placental blood flow, which allowed us to maintain normal fetal delivery, with normal fetal oxygen saturations. The next obstacles we'll need to overcome will be regulatory.
When do you anticipate the first human studies?
We are initiating a pre-clinical animal trial that the FDA has assisted in designing. Once this is complete we can apply for an IDE (Investigational Device Exemption) from the FDA for first in human studies. We are also designing a clinical device to initiate these studies. We anticipate that we will be able to move forward to our first human studies in two to three years.
Receive content, products, events as well as relevant industry updates from The Translational Scientist and its sponsors.
TJ Matthews et al., "Infant mortality statistics from the 2013 period linked birth/infant death data set" Natl Vital Stat Rep, 6, 1–30 (2015). PMID: 26270610.
JJ Coalson, "Pathology of new bronchopulmonary dysplasia", Semin Neonatol, 8, 73–81 (2003). PMID: 12667832.
EA Partidge et al., "An extra-uterine system to physiologically support the extreme premature lamb", Nat Commun, 8, 15112 (2017). PMID: 28440792.