Research Field
Cancer,
Nanomedicine,
Drug discovery
Leidenfrost Nanochemistry
Scientists fabricate anticancer nanoparticles by recreating deep sea volcano chemistry
James Strachan |
Current methods for fabricating nanoparticles, such as hydrothermal synthesis, laser ablation, or gel synthesis, all involve environmentally unfriendly surfactants, as well as expensive instrumentation. But what if fabrication could be achieved simply with a water bath and hot plate? Inspired by the way water dances on a hot pan – the Leidenfrost phenomenon – and similar chemistry that takes place in underwater volcanos, Mady Elbahri, Professor of Chemical Engineering at Aalto University, Finland, has developed an environmentally friendly means of producing ZnO2 nanoparticles (1). What's more, Elbahri's team has also found that the nanoparticles can kill cancer cells. Here, she tells us more about Leidenfrost nanochemistry.
What inspired this work?
Let's start with the Leidenfrost phenomenon. When cooking in the kitchen, you may have noticed that when a water droplet touches the surface of a very hot pan, instead of evaporating, it moves and dances. I observed this phenomenon – the Leidenfrost phenomenon – in my kitchen a few years ago, and after contemplating the mechanisms behind it, I thought that it could potentially be useful for nanosynthesis. After some initial research, I introduced the novel concept of "Leidenfrost nanochemistry," which means synthesis of nanoparticles using the Leidenfrost effect. To scale up the process, we sought to recreate the way underwater volcanos form minerals through Leidenfrost chemistry using a hot water bath.
Read the full article now
Log in or register to read this article in full and gain access to The Translational Scientist's entire content archive. It's FREE!
Login
Or register now - it's free!
You will benefit from:
Unlimited access to ALL articles
News, interviews & opinions from leading industry experts
About the Author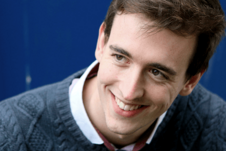 James Strachan