Research Field
Clinical trials,
Neuroscience
Multiple sclerosis (MS) is a demyelinating disease with no cure. Some therapies are available to alleviate symptoms, which range from the physical to the psychiatric, but adverse reactions and drug costs mean that improvements are needed. We spoke to one researcher who helped to uncover a new potential therapy for MS: minocycline, a broad-spectrum antibiotic that is commonly used to treat acne. Luanne Metz, first author of the associated paper (1), tells us more.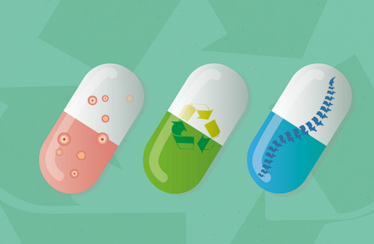 Where did the idea to treat MS with an acne drug come from?
My collaborator, V Wee Yong, studies mechanisms of pathogenesis in MS. He was studying the way that inflammatory cells cross from the bloodstream into the brain. Specifically, he was studying enzymes called matrix metalloproteinases that facilitate this migration, and he found a report that these enzymes are inhibited by minocycline. He tested this in the lab, and we performed several human trials that confirmed the benefit of minocycline. By the time we started this recent trial, it would have been unethical to do a placebo-controlled trial in relapsing-remitting MS, so we studied patients who had suffered one clinically isolated demyelinating event (such as optic neuritis or myelopathy) – also known as a clinically isolated syndrome (CIS) – and a change in their MRI scan. We knew these candidates had a very high risk of MS but did not yet have the disease.
Why are new treatments needed?
Current options for MS depend highly on where you live and what insurance you have, and prices can vary tremendously. In Canada and the US, we have interferon beta and glatiramer acetate for CIS but Canadian provincial insurance doesn't cover either in many areas. For relapsing-remitting MS, we have injectable, oral and infused therapies, but they are expensive (in Canada from CA$18,000–34,000 per year, and in the US over US$60,000 per year). Inexpensive therapies are desperately needed, both in North American and worldwide, as many people can't afford existing treatments. By comparison, in Canada the cost of minocycline is less than CA$600.00 per year, and can be prescribed by any physician on the day of diagnosis. And from the results of our trial, the effects of using minocycline are similar to those of first line approved therapies – however, we will need further studies to determine if the benefit holds at 24 months.
What potential impact could this medication have on patients with MS?
This medication can now be prescribed to people experiencing a first event that is suggestive of MS to potentially prevent further disease activity, such as another relapse or evidence of ongoing brain inflammation seen using MRI. These relapses leave behind permanent deficits 40 percent of the time. MRI activity indicates higher risk of further relapse, and MRI lesions can accumulate and contribute to cognitive dysfunction. But early treatment has the potential to be preventative – and an affordable, widely available drug could mean that many more people will have access to it.
What are the next steps?
One challenge we will face going forward is funding – because this is a cheap generic drug, it will be hard to find funding outside of governments or not-for-profit organizations. But we are hoping to obtain funding to confirm our results and demonstrate that minocycline has a longer-term benefit for patients. We also hope to explore the effect of minocycline on the gastrointestinal microbiome, and to do another study trialing minocycline along with glatiramer acetate.
Receive content, products, events as well as relevant industry updates from The Translational Scientist and its sponsors.
LM Metz, et al., "Trial of minocycline in a clinically isolated syndrome of multiple sclerosis", N Engl J Med, 376, 2122–2133 (2017). PMID: 28564557.