Research Field
Microbiology,
Imaging,
Biomedical engineering
Built for Speed
Urinary tract infections account for a large portion of antibiotic prescriptions – but could a new point-of-care test help doctors prescribe more selectively?
Roisin McGuigan |
The threat of antibiotic resistance needs no introduction, and yet antibiotics are still being incorrectly prescribed around the globe. New and improved approaches to diagnosing bacterial infection can help, and one team from the University of Uppsala, Sweden, have developed a rapid point-of-care (POC) test to determine the susceptibility of bacteria to antibiotics in urinary tract infections (UTIs). We spoke to Johan Elf, Professor of Physical Biology and Chair of Molecular Systems Biology, Uppsala University, to find out more…
How did you come to focus on a POC test for antibiotic susceptibility?
My lab was working on the basic science of cell-to-cell variation and we had developed very sensitive tools to measure growth rate at the single molecule level. When we started looking at-cell to-cell variation in antibiotic response to understand the origins of bacterial resistance, we realized that we could tell if the bacteria responded to the antibiotic in just a few minutes. The next step – envisioning a POC test for antibiotic susceptibility – was a small one.
And why focus on UTIs, in particular?
A hundred million women suffer from UTIs every year, and this accounts for a very large fraction of antibiotic use. At the same time, there is wide spread antibiotic resistance. Doctors stop using the first line antibiotics when the local resistance is higher than 20 percent. But they could still be used in 80 percent of cases if we could only determine the antibiotic resistance profile, before prescribing the drug. It would allow us to both extend the lifetime of the existing antibiotics, and at the same time ensure we are always prescribing an effective antibiotic for that particular patient. It would also allow us to identify patients who don't have a bacterial infection at all.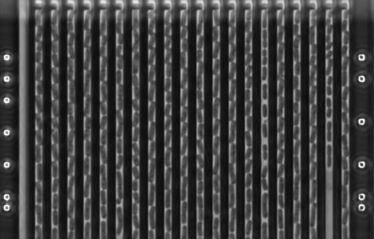 How does the fast antibiotic susceptibility test (fASTest) work?
It's based on a microfluidic chip with structures small enough to allow us to selectively capture one bacteria in each of the 4,000 channels. Some of the channels are exposed to the test antibiotic, and we monitor the growth rate response by direct single cell imaging (see Figures 1 and 2). As we can detect the volume extension of individual cells and average over a few hundred cells, the average growth rates can be determined in just a few minutes (1). The principle is very similar to a standard plating assay, but miniaturized, which makes it much faster, as we do not need to wait for the bacteria to multiply.
What equipment and training will be necessary to administer the test?
For use in primary care, I expect that the test will have to be very simple and automatic. Ideally it should involve simply opening the lid of a shoebox-sized device, and placing a urine sample and a plastic consumable inside. A 10 minute wait and you'll have a result of a bacterial count, and within a maximum of another 20 minutes you should have an antibiotic susceptibility response for a few relevant antibiotics. As we couldn't achieve this next stage in a University setting, a company in Uppsala has taken over the development.
Could fASTest be adapted for use in other types of infection?
Sepsis obviously comes to mind because of the sensitivity and speed, as we only need a few hundred bacteria. But other diseases, such as meningitis or mastitis, could also be considered.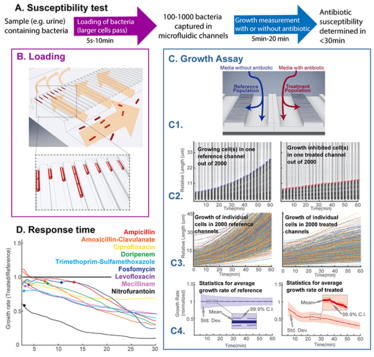 How important is POC testing in trying to curb resistance?
It definitely has its role to play. We need to stop using antibiotics when there is no bacterial infection, and we need to save broad spectrum antibiotics and new drugs for when they are truly needed. However, right now, there are no actual POC susceptibility tests and doctors have to base the first treatment on statistics alone. Using POC susceptibility testing, we can keep using old antibiotics in the cases they are effective, even if the average resistance is very high.
When will fASTest likely hit the clinic?
The method needs to be made user-friendly, and the consumable chip and reader device need to be produced at a large scale to become inexpensive. This task is now in the hands of the start-up company – Astrego Diagnostics. If they work with a bigger company for production and to reach the clinics, I would hope that it could be done in about three years.
What's next for your laboratory?
We will continue with our fundamental science projects related to intracellular biophysics and methods development for single molecule tracking in live cells. We will also do some work on the molecular mechanisms for cell-to-cell variation in antibiotic response, which underlies the development of resistance.
fASTest is a great example of the importance of basic research. If we had not pushed the measurement technology to answer our basic science questions, we would not have the microfluidics and image analysis tools we needed to create this test.
Receive content, products, events as well as relevant industry updates from The Translational Scientist and its sponsors.
Ö Baltekin et al., "Antibiotic susceptibility testing in less than 30 min using direct single-cell imaging", Proc Natl Acad Sci, 114, 9170–9175 (2017). PMID: 28790187.