Research Field
Diagnostics & prognostics,
Genetics,
Microbiology
Better Biopsies for Amyloidosis?
Diagnosis of familial amyloid polyneuropathy can be both tricky and slow – but a different approach could hold the answer
Roisin McGuigan |
Transthyretin-mediated amyloidosis (TTR) is an inherited condition that causes familial amyloid polyneuropathy (FAP), a disease that often proves fatal within just a decade. TTR-FAP is usually diagnosed by a sural nerve biopsy, followed by genetic testing – but it is a highly invasive procedure, and the distribution of amyloid aggregates the pathologist is looking for to make a diagnosis can be patchy. And that's why correct early diagnosis of the condition is uncommon (1).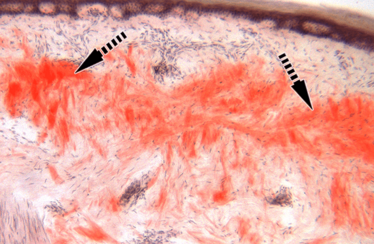 A group of Johns Hopkins physicians have developed a modified approach using a skin punch biopsy, with the aim of creating a faster and relatively less invasive method of diagnosis. In a small study of 30 FAP mutation carriers, 40 controls, and two patients with non-inherited amyloidosis, distal leg skin punch tissue samples stained with Congo red had a 70 percent sensitivity and 100 percent specificity in diagnosing TTR-FAP (see Figure 1). The team also found that higher levels of amyloid aggregate were associated with loss of nerve fibers – which could lead to a new method of estimating disease severity, and monitoring progression. They hope that with a potential method for providing diagnostic and prognostic information less invasively, clinical trials of therapies could advance more quickly.
The current method has only been tested on the most common FAP-causing TTR mutations, but the team hope that their work can be built upon. "If further studies confirm and extend what we have found, we may use the skin biopsy as a biomarker for disease severity. And we will be able to diagnose more patients sooner," said Michael Polydefkis, professor of neurology and senior author of the study. "The good news is that drug companies are using our skin biopsy technique in ongoing clinical trials to monitor treatment success," he added (2).
Receive content, products, events as well as relevant industry updates from The Translational Scientist and its sponsors.
GJ Ebenezer et al., "Cutaneous nerve biomarkers in transthyretin familial amyloid polyneuropathy", Ann Neurol, 82, 44–56 (2017). PMID: 28598015.
Johns Hopkins Medicine, "Faster diagnosis of inherited and lethal nerve disease could advance search for new treatments", (2017). Available at: bit.ly/2xgebL1. Last accessed October 4, 2017.