Research Field
Drug discovery,
Immunology
Antibody About Turn
A promising candidate is on the verge of entering clinical development… What happens when you see an opportunity to make it even better? Do you delay – or stick with it in the hope that it's "good enough"?
Sam Cobb |
The introduction of antibody therapeutics has been one of the greatest, recent advances in drug development. These are often thought of as the large molecular weight monoclonal antibodies, but there are many other interesting antibody formats too with significant potential for human medicine. I am the founding CEO of AdAlta, a company that was launched with a focus on both shark antibodies and a human equivalent called the i-body. Both the shark antibody and the i-body have unique characteristics that support their inclusion in this next generation of antibody therapeutics.
A traditional mAb possesses both a heavy and light chain, but shark antibodies have only a heavy chain (similar to camel antibodies, which are attracting a great deal of attention in the research community). Both shark and camel antibodies have a very long CDR3 binding loop. The traditional binding loop in a human antibody is 8-10 amino acids, but in the shark it can consist of up to 30 residues, increasing binding affinity. Shark proteins are also very stable, you can boil them or put them in acid! We have even put the i-body and shark antibodies in proteases and found that they did not degrade.
Some companies are looking to use the actual shark antibody as the basis for a biotherapeutic, but we have instead used them as a blueprint to engineer two loops into a human protein; one of the loops is extremely long like that of the shark antibody, enabling tight binding to the drug target. This new engineered human protein is our i-body. It is a proprietary technology of AdAlta and we've developed a library containing billions of i-body compounds that are unique, which can easily be screened against any disease target to identify new innovative drug candidates.
i-bodies, as well as shark antibodies, are certainly interesting, but rather than dive into the details of our platform I wanted to share an important lesson we learnt through the development of our lead candidate...
Prior to commencing my current role at AdAlta, I worked as a research scientist developing diagnostic tests. I also studied law part time and did a Master's in intellectual property law, which gave me a great introduction to the business side of science. This led me to work in technology transfer with several Australian universities, including one that set up a cooperative research center focused on diagnostics – bringing together 12 partners from industry and academia. When government funding for this program ended, it was my job to help wrap it up – and as an outcome of this, AdAlta was spun out and I joined the company as the founding CEO.
The positive data for this molecule just kept on coming, and in January 2017 we received orphan drug status from the FDA.
When we first started out, we had the two technologies – the human i-body and the shark antibody. Eventually, we reached a crossroad: did we focus on the shark, or did our human i-body hold more promise? When we received private venture capital investment in 2011, we pivoted towards the human i-body platform.
The i-body library generated a number of potentially therapeutic molecules, with the most promising being AD-114 – an i-body that demonstrated efficacy against the chronic lung disease, idiopathic pulmonary fibrosis (IPF). Importantly, the drug only has an effect on diseased lung tissue because our target (CXCR4) is highly expressed in IPF lung tissue and not present in normal lung tissue. This means the drug is less likely to have unwanted side effects. The positive data for this molecule just kept on coming, and in January 2017 we received orphan drug status from the FDA. There was also excitement in the patient community about AD-114 and we were invited to conferences to talk about our work.
Many promising drugs enter clinical trials but then fail because of a lack of efficacy in humans.
Further Reading
K Griffiths et al., "Anti-fibrotic Effects of CXCR4-Targeting i-body AD-114 in Preclinical Models of Pulmonary Fibrosis," Scientific Reports 8 (2018).
K Griffiths et al., "i-body AD-114 targeting CXCR4 has Anti-fibrotic Activity". Presented at the IPF Summit 21-23 August, 2017, Boston, USA.
K Griffiths et al., "i-bodies, Human Single Domain antibodies That Antagonize Chemokine Receptor CXCR4," JBC 10 (2016).
To pivot or not to pivot
Throughout the development of AD-114, we have had consistent dialogue with potential pharmaceutical partners as well as our exceptional scientific advisory board, which includes executives from Pfizer and Novartis. They have developed over 10 well-known products currently on the market, including Viagra, Zithromax, Xolar, Seebri, and several other still in clinical development. Our director, Robert Peach (the founding scientist of Receptos, which was acquired by Celgene in 2015), was also involved in the development of Orencia, a multi-billion dollar Fc-fusion drug product for the treatment of rheumatoid arthritis.
AdAlta's scientific advisory board raised the idea of an Fc-fusion version for the i-body platform. Pharmaceutical companies had also provided AdAlta with initial feedback regarding the half-life of AD-114; while patient demand for novel IPF treatments is high, a longer half-life would be more desirable.
The generation of the AD-114 Fc-fusion and the preliminary evaluations generated data to show that by combining two of the AD-114 molecules with an Fc fusion protein, the new molecule (AD-214) resulted in the same pharmacology, but improved potency and drug half-life.
We were so close to entering the clinic with an already promising protein, but suddenly we had this new data which demonstrated improved activity and half-life. What should we do? Do we continue with the old design or delay clinical development to pursue this new version of the protein?
IPF Outlook
Idiopathic Pulmonary Fibrosis (IPF) is considered the most common Interstitial Lung Disease (ILD) and results in scarring of the lungs, which gradually worsens until patients find it difficult to breath. Prognosis is poor and there are only two existing treatments. Both slow the disease but there is no cure and patients generally only survive 3–5 years. The scarring process is thought to be driven by collagen-expressing immune and structural cells. CXCR4 is seen as a candidate therapeutic target for IPF because of its role in the recruitment of CXCR4+ fibrocytes from the bone marrow to fibrotic lung tissue, and its increased expression levels by structural cells in fibrotic lung tissue.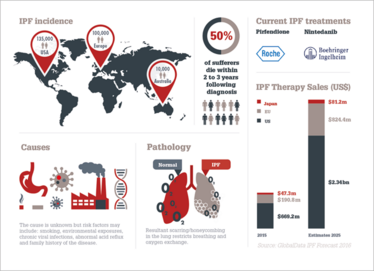 Follow the science
Many promising drugs enter clinical trials but then fail because of a lack of efficacy in humans. We wanted our molecule to have the best chances of making it through clinical trials. And so, when we saw the improved potency and half-life, it was (almost) a no brainer. Redesigning the molecule would give it higher efficacy and enable less frequent dosing, which would be an advantage for patients – right?
But once you are at the tantalizing step of entering the clinic, it can be difficult to turn back. Many companies at this point may already have developed their cell lines, designed the manufacturing process and performed toxicology studies. If you want to change something you need to start over, which is not cheap. Many small companies are also always in a race to reach the clinic while they still have money, or to reach investor milestones.
However, you cannot ignore the data that's right in front of you and the advice of potential partners. We opted to redesign the molecule and delay our entry to the clinic. Our board of directors also understood and, therefore, agreed that pursuing this new approach was the right decision. The redesigned molecule is called AD-214 and contains two AD-114 i-body molecules that bind with high affinity to the human target CXCR4 to elicit anti-fibrotic activity and the Fc-Fragment to improve the half-life.
It was not an easy decision for us. We were fortunate not to have commenced toxicology studies, but we will have to repeat our manufacturing work. Manufacturing an Fc fusion protein requires a completely different process to what we had set out for AD-114 – and we've had to look for experts in the area to assist. To reach our final goal posts, we've partnered with specialist companies to help us – Selexis SA for cell line development, and KBI Biopharma for process development, analytical development, formulation development and clinical manufacturing services. We should be ready for toxicology studies in the second half of 2019, and be in the clinic early in 2020.
My key advice for all companies? Surround yourselves with good scientific advisors – and then heed their advice! The feedback of our scientific board has been invaluable in this early stage of development and it's really exciting to see what an impact it has made to the protein. I would also say it's also never too early to speak with potential pharmaceutical partners about what they are looking for in terms of a partnered drug candidate. Getting their feedback helped us to make the decision to improve the potential therapeutic application of our i-body. The delays are frustrating given that we were so excited about the original protein, but the new data has given us even more confidence that we will be able to bring a new effective treatment to market for patients.
If we had gone through with the trial, and the results had come back negative because of the half-life or efficacy, it would have been far more frustrating and painful! It is much more difficult – and expensive – to make changes later on; it's far better to uncover potential problems in the early stages and to address them before entering the clinic.
Sam Cobb is CEO of AdAlta, Australia.
Receive content, products, events as well as relevant industry updates from The Translational Scientist and its sponsors.