Outside the Lab
Professional development,
Cell & gene therapy
Revolutionizing Medicine – While Learning "Novartian"
Sitting Down With... Bruce Levine, Barbara and Edward Netter Professor in Cancer Gene Therapy, Perelman School of Medicine, University of Pennsylvania, USA.
James Strachan | | Interview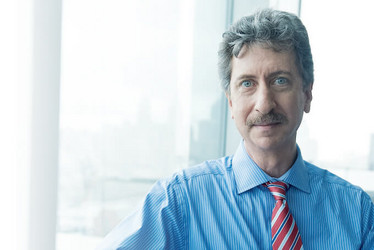 How would you characterize the cell and gene therapy field when you first entered it?
When I finished my graduate work, there wasn't really a cell and gene therapy field to speak of. We had to build one from the ground up. During my postdoctoral fellowship, I was asked to create a lab that would grow T-cells for an immunotherapy trial with HIV. There wasn't a roadmap, but we managed to figure it out and eventually treat 10 patients with their own expanded T-cells – increasing CD4 counts and CD4 ratio in immune function. We then used the technology to grow T-cells in other settings – namely, cancer and post-stem cell transplant.
How did your career progress from there?
In the late 1990s, a company called Cell Genesys performed the world's first Chimeric Antigen Receptor (CAR)-T cell trials. They found that, using an older ex vivo T-cell culture method, T-cells could enter the body but would subsequently disappear. They came to us because of the work I had done in creating an efficient and potent way to stimulate and grow T-cells. We worked day and night, and eventually published the first anti-viral vector clinical trial in humans for HIV in 2000. Around that time, we went to the University of Pennsylvania to do clinical trials in cancers. We had two avenues we could pursue. One was to try and increase the number of tumor specific T-cells – and we found that we could combine vaccination and adoptive transfer of T-cells to increase immune function via that pathway; the other was to obtain the gene vector for the CD4 zeta CAR that Cell Genesys had used in their HIV patient trials. In early 2004, the latter line of investigation sparked an application to a small philanthropic organization called the Alliance for Cancer Gene Therapy to begin the pre-clinical work for a CAR-T trial in cancer targeting CD19.
The work culminated in treating the first three patients with CAR-T cells in 2010. But it was another 15 months before we were able to treat the fourth patient because of a lack of funding. We were so far from conventional thinking in research funding and we were rejected by the NIH several times.
While this was going on, we also continued to work on HIV. A company called Sangamo Therapeutics came to Carl June with the idea of editing genes using zinc finger nucleases. I clearly remember the moment when Carl came into my office and told me about the idea, which was crazy given the company's low gene editing efficiency in preclinical to date. But we gave it a shot to see if we could substantially increase the gene editing efficiency to make it work. These studies led to the first ever gene editing trial in humans. Since then, we've continued to do first-in-human trials, lentivirus, gene editing – and we're currently doing the first CRISPR trial outside of China.
How has the cell and gene therapy field changed over the years?
Just look at the number of delegates at the International Society of Cell and Gene Therapy (ISCT) annual meeting every year, and at publications like Time Magazine featuring Carl June as one of 2018's top 100 most influential people. The field has certainly percolated beyond a small niche group of investigators. Years ago, we would go to conferences and our sessions would be on the last day in a room nobody could find. The attitude of the scientific community at that time was, "That's kind of cute, but we'll continue doing what will actually impact patients." Things have changed following the first approvals, but it's still early days. Really we're at the "Model T" stage of this technology, and it will take time to automate and for it to be more widely accessible.
What have you learned through working with big pharma companies?
I learned how to speak Novartian! There's a way of doing things and a kind of language that you must use with big pharma. But we also taught them what a T-cell is, and what dosage means if you're administering a dividing drug – the pharmacokinetics are very different compared with something like Gleevec. It's been interesting in that respect. Back in 2010, we were speaking to a number of different entities of all shapes and sizes, but we felt that Novartis, with their experience in oncology and global clinical and regulatory expertise, was ethically the best choice to develop the therapy fastest with patient access in mind.
What are the main challenges the field must now overcome?
There's some tremendous science percolating through with combination CARs or switches and modules to induce resistance to the inhibitory factors tumors create. I'm really excited about the potential to crack some of the tougher nuts – solid tumors, in particular. We also need to overcome the challenge of translating a manual process into an automated, industrial-scale process. We see new tools being used to facilitate the process of reducing the time and cost it takes to manufacture these products. And logistics and supply chain issues bring further challenges.
I see a merging of fields that had previously been working separately, such as engineering and immunology. We're currently collaborating with bioengineers and supply chain engineers at Georgia Tech – we had no idea what they did before 2010. It's a really exciting time because not only is there a great deal of new science coming in, but there are also several other factors that go into how you deliver these therapies to patients that we are only just beginning to work out.
Receive content, products, events as well as relevant industry updates from The Translational Scientist and its sponsors.