Outside the Lab
Imaging,
Professional development
"May I Enjoy Life and Art"
... so states the Hippocratic Oath – and now research shows that art training can improve ophthalmologists' observational skills
Ruth Steer |
"Observation is a pivotal skill in medicine, especially in the field of ophthalmology, but medical education does not focus explicitly on teaching students how to observe," says Gil Binenbaum, attending surgeon in the Division of Ophthalmology at Children's Hospital of Philadelphia, Pennsylvania, USA. To explore how observation skills training might improve the medical – and more specifically the ophthalmological – observational skills of students, Binenbaum and a multi-center team performed a randomized controlled study. "We looked to the fine arts, a field that excels in its observation training," says Binenbaum.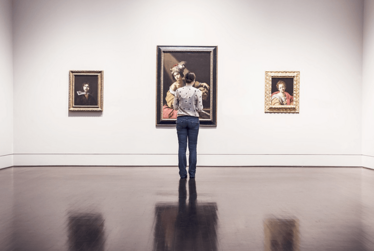 Thirty-six first-year medical students were randomized into either art training or control groups. The 18 students in the training groups attended six art observation sessions at the Philadelphia Museum of Art over a three-month period; the control group was given free membership to the museum. Pre- and post-training, the students' observation skills were assessed by description testing (where they described works of art, retinal pathology images as well as external photographs of eye diseases) and emotion recognition testing.
Did the art training improve their observation skills? "Yes, it did!" says Binenbaum. The training group showed significantly improved observational skills compared with the control group (p<0.001). Furthermore, the training group scored significantly higher scores in all subsets of the description testing. "We believed that learning observational skills related to fine arts would allow students to hone general observational skills, but we were surprised by the extent to which they translated to medicine," says Binenbaum, adding that the results "highlight the art of medicine and encourage us to think outside the box when it comes to bridging across disciplines to improve medical training."
And does this team practice what they preach? Senior medical student and coordinator of the study, Jaclyn Gurwin, has herself participated in the art training in its first iteration and is now an ophthalmology resident. She commented: "It was incredible to see the training at work and how the medical students participated and expressed themselves in a way that I was not used to seeing in the medical school classroom. It seemed as though the students felt more of a freedom to share their own ideas and opinions, and they quickly built upon techniques they were learning."
Binenbaum hopes that their findings will help encourage medical schools and graduate medical education programs to recognize the importance of teaching observational techniques, and perhaps even incorporate this type of art observation training into their curricula. "As a result of our study, The Perelman School of Medicine at the University of Pennsylvania has already created two medical student elective courses in art observation training," says Binenbaum. Next, the team are planning to study the effect of art training on physician empathy, and have begun to pilot art observation training for post-graduate trainees. Binenbaum comments: "We hope that improved observational abilities from this training will translate to improved clinical effectiveness and empathy, and ultimately, make better physicians." It seems the medical schools of the future may place a little more emphasis on the finer points of the Hippocratic Oath.
Receive content, products, events as well as relevant industry updates from The Translational Scientist and its sponsors.
J Gurwin et al., "A randomized controlled study of art observation training to improve medical student ophthalmology skills", Ophthalmol, [Epub ahead of print], (2017). PMID: 28781219.