Disease Area
Neurological,
Cell & molecular biology,
Professional development
Solving the RPE Puzzle
Sitting Down With… Luminita Paraoan, Chair of the Ocular Molecular Biology and Mechanisms of Disease Group in the Department of Eye and Vision Science at the University of Liverpool, UK
What inspired you to choose a research career?
The main inspiration for choosing my degree was my mother, a PhD biologist who combined her career with family life brilliantly. Watching her in the lab, doing her research and overcoming various challenges, influenced me greatly throughout my childhood. Even though I chose a slightly different subject, she gave me the inspiration for my postgraduate degrees and pursue an academic career.
I have met various inspirational people along the way, and the one thing they have in common is the passion for their field and the desire to get to the bottom of things by asking interesting questions. This still excites me greatly – some of these questions now come from my students, and make me stop and think, "What an interesting perspective!" If I'm not sure how to answer, I develop a hypothesis and think about practical ways of addressing the problem. I have been very lucky to find people who knew how to ask questions that weren't immediately obvious, which started interesting conversations, rewarding projects that in turn led to exciting discoveries.
The highest reward a scientist can receive is the recognition of their colleagues and to have their findings discussed and respected by their peers.
How has your career developed?
I did my undergraduate degree at the University of Bucharest in Romania. It was a very competitive course, I enjoyed it greatly and finished first in my class; I then soon joined my department as a junior faculty member. I was awarded a Fulbright scholarship at Johns Hopkins University in Baltimore, where I did a lot of experimental work for my first PhD in genetics and microbiology. One of my mentors during the early formative years of my career, Ted Maden, was the Johnston Professor of Biochemistry at the University of Liverpool. Following a short period of work in the UK with him and the late Jim Haslam, we applied for a Wellcome Trust grant and, when we got it a year later, I came back to Liverpool, not predicting I would stay here for much longer. It was at the University of Liverpool that I first got involved in eye-related research, looking at gene expression in the retinal pigment epithelium, and my career in eye and vision science began. In 2016, I became the Chair in Ocular Molecular Biology at the University of Liverpool. I never planned my career, but rather took advantage of opportunities that came along.
You recently became ISER's Vice-President for Europe – what does that mean to you?
The highest reward a scientist can receive is the recognition of their colleagues and to have their findings discussed and respected by their peers. With that come requests for involvement in professional organizations – the main ones in vision science being ARVO and ISER. Over the years, I have held different positions in both. Most recently, I served as Chair of the Biochemistry/Molecular Biology Section of the ARVO Annual Meeting Program Committee, which was a huge undertaking, and now I have been elected Vice-President for Europe at ISER. This appointment means a lot to me because it was voted for by colleagues around the world. It is humbling to think how many people must have voted for me based on what they knew about me, what I stand for – my research, and my career.
When I was appointed at the beginning of 2020, we were in the middle of preparing the biennial ISER Meeting to be held in Buenos Aires, Argentina. We continued to develop the program until the ISER Council made the decision to cancel the event due to COVID-19. It is a wise decision, but very disappointing – the meeting will now take place in 2024.
A position like mine brings with it the responsibility to promote the interests of the Society, increasing membership and supporting young researchers (focusing specifically on eye and vision scientists in Europe). I hope that, in three years' time, I will look back at my achievements in these areas with pride.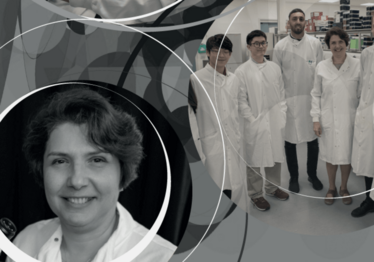 What are you working on at the moment?
My group has two main research areas in eye and vision science, both focusing on physiological processes and pathologies that develop at the back of the eye. The first relates to the molecular cell biology of the retinal pigment epithelium: how it functions, its health, what changes occur as a result of aging, and how they impact the development of AMD.
Our other area of research is the tissue immediately adjacent to the retinal pigment epithelium – the choroid, specifically in relation to the most common eye tumor, uveal melanoma. Over the years, we have contributed research on the controlled regulation of apoptosis – how cancerous cells become resistant to chemo- and radiotherapy.
What got you fascinated with the eye?
Retinal pigment epithelium is a fascinating tissue – and you have to be passionate about the tissue you work on! When we are born, this monolayer of cells at the back of the eye is formed and the same cells have to sustain our vision for our entire lives. Without them, the light sensitive cells – rods and cones – in our retina cannot survive and cannot function. Not surprisingly, it is the place where age-related vision changes occur, and gaining an understanding of those changes is behind everything I and the people working with me do. Developing interventions to slow down these aging processes will undoubtedly have implications for other types of cells, so I find this work extremely rewarding.
It gives me great satisfaction to watch people develop as scientists and realize what they have learned and achieved. That moment when you watch their faces and see ideas click is fantastic!
How does your research translate into clinical practice?
Even though we carry out fundamental research, we work quite closely with clinicians and pharmaceutical and R&D partners to develop ideas for novel therapeutic strategies – all our work forms pieces of a bigger jigsaw puzzle that we solve bit by bit.
We also interact directly with patients. It's very important for researchers to see how the pathologies they work on affect people at different stages of vision decline. Both clinicians and patients have commented on how our findings have helped them in their daily routines – be it clinical practice or understanding of disease progression. What is most important is that we all learn from each other.
How do you help younger colleagues develop their careers?
I hugely value mutual relationships with people who are equally motivated, have a high work ethic, and enjoy overcoming challenges. I have been very fortunate to learn not only from senior colleagues, but also from talented younger people who get excited by science – it is a mutually beneficial association. It gives me great satisfaction to watch them develop as scientists and realize what they have learned and achieved. That moment when you watch their faces and see ideas click is fantastic! I have also mentored younger researchers as part of my roles at ARVO and ISER, including a special program for researchers from developing countries who make valuable contributions to eye vision research and ophthalmology practice in their countries.
How has COVID-19 affected research projects and academic teaching?
It has been a challenging time and we have had to adapt rapidly – both my research group and the wider community. It has only been a few months and yet it feels like a lifetime of learning new processes. We are constantly coming across new problems that require innovative solutions. Making things work in a new way gives me satisfaction, but it is extremely challenging and there is no end in sight.
Fortunately, at the start of the pandemic, my research group had already accumulated a lot of data, so we could focus on data analysis and writing – we had four major papers published in the last few months. Now, labs are open at around 50 percent capacity and running projects as efficiently as possible requires a lot more time and effort than I had imagined. We've had to be creative with working out what can be done from home and how individual researchers' roles can complement each other. I hadn't fully appreciated just how much time we would spend in virtual meetings and how demanding it would be to go through things that were so easy to communicate face-to-face just a few months ago. We have all had to adapt; fortunately, we have done it well, because there are still at least a few more months of this ahead of us.
In terms of online teaching, I opted for synchronous teaching and have insisted that students put their webcams on so that we can still have some interaction. It's great to see these young people eager to learn.
What aspect of your life are you most proud of?
My family life developed parallel to my career: my first two sons were born while I was doing my two PhDs and the birth of my third son coincided with a promotion at the University of Liverpool. Now, they are all very accomplished young men developing their own careers, and I feel immense pride seeing what they have achieved. My husband is a surgeon and it has been challenging to drive both our careers while creating the right home environment for our children, but they found inspiration in what we were both doing – just like I was inspired by my mother's work.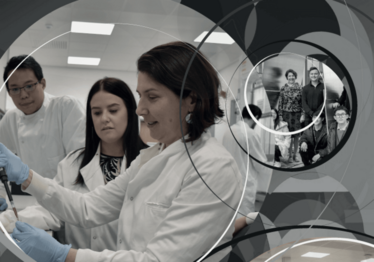 Receive content, products, events as well as relevant industry updates from The Translational Scientist and its sponsors.