Disease Area
Biomedical engineering,
Infectious diseases
Buying Time for Malaria Patients
As our blood-filtering malaria treatment gears up for clinical trials, I look back on the journey from student project to potential life-saver.
George Frodsham |
The first time we tested our MediSieve antimalarial device in human samples was a nerve-wracking experience. As I sat in the Malaria Group's lab at Colombia's University of Antioquia, I had my doubts. I was confident that the theory was sound; like a dialysis machine, MediSieve would filter the blood of malaria patients, making use of the natural magnetic properties of infected cells to capture them in a magnetic filter. But would it work in practice? I'd done a whole lot of modeling back in London, and even some preliminary tests in mouse models – and those results had been positive enough to convince The Rosetrees Trust to fund my research trip. But as I watched my collaborators peer down their microscopes at the blood samples, I had the uncomfortable realization that if the answer wasn't what we hoped for, the project was in serious trouble.
While I was busy imagining various worst-case scenarios, the scientists finished their cell counts. They turned to me and smiled. "It worked."
An idea is born
The seeds of MediSieve were sown a few years earlier, towards the end of my BSc/BA in physics and philosophy at King's College London, when I first learnt about magnetic nanoparticles. When I realized that you could bind the nanoparticles to specific cells, the idea struck me for a magnetic filter that could remove diseased cells from blood. I had no clue what those diseased cells would be or whether it would even work, but I decided to follow up my idea as a research project during my Master's degree in nanotechnology. I approached Quentin Pankhurst – Director of the Healthcare Biomagnetics Laboratory at University College London – and asked if he would be my supervisor.
When I realized that you could bind the nanoparticles to specific cells, the idea struck me for a magnetic filter that could remove diseased cells from blood.
I have always leaned towards translational science. An internship at CERN confirmed that pure science wasn't for me; I'm much more excited by projects that have immediate real-world applications. Even before I started my PhD, I was looking at my research from a commercial point of view. I was encouraged by Quentin (also strongly focused on translational research, and a man of many start-ups), who taught me the importance of considering non-scientific elements. I learnt from him that commercial viability is often a bigger deciding factor in whether you get funding than whether your first prototype even works.
The prototype devices I built during my Master's course were pretty basic, but I felt it was something worth pursuing; Quentin agreed, and I embarked on my PhD with the goal of advancing the technology into a viable medical device. I founded the company – MediSieve – about six months before I started writing up my thesis.
A solution in search of a problem
As I embarked on my PhD, I wasn't immediately sure what direction to take my research; there were almost too many potential applications. After a good deal of research, I came across a paper about the magnetic properties of malaria-infected cells. The malaria-causing Plasmodium parasites invade the body's red blood cells and consume the hemoglobin protein. That leaves the non-protein, iron-containing heme group, which is toxic to the parasite. To avoid poisoning, Plasmodium crystalizes the dangerous free heme to hemozoin. Also known as "malaria pigment", hemozoin is critical to the parasite's survival, and importantly for us, it also has
magnetic properties.
The fact that malaria-infected cells can be trapped in a magnetic filter without the use of magnetic nanoparticles instantly caught my attention. Fascinating as nanoparticles are, making magnetic particles is complex chemistry, and I am no chemist. On top of that, making magnetic particles and then functionalizing them so that they bind to a specific molecule in blood is an entire PhD project on its own, before you get started on making a filter that is appropriate to remove them. So the idea of bypassing nanoparticles altogether and focusing on the magnetic filter made a lot of sense.
The application itself also really caught my imagination, given its potential to save lives, and have a real impact for millions in the developing world. Translation is arguably much more challenging when you set out to make a product intended for use in the developing world, but I think even that was a positive in many ways; it made us focus on affordability early on. In other words, cost informed the design from day one.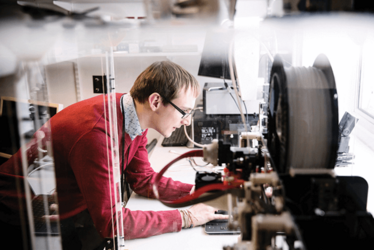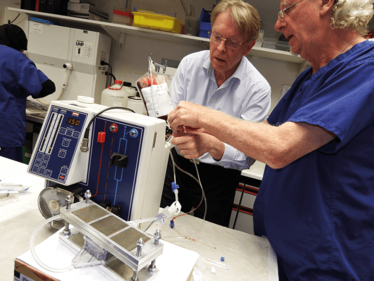 Turning back the clock
MediSieve is essentially a form of dialysis. We circulate the patient's blood outside their body, continuously passing it through a magnetic blood filter that captures and removes the malaria-infected cells, while everything else flows peacefully by. Depending on the patient, it should take about two and a half hours to remove 90 percent of the circulating infected cells, orders of magnitude faster than the best drugs currently available. The MediSieve Filter is not a cure, and the parasites in the remaining 10 percent of infected cells will continue to grow. But it could still make a big difference when treating the most severely affected patients or those who cannot currently be treated (for example drug-resistant cases or pregnant women).
The percentage of red blood cells that are infected with malaria – known as parasitemia – is a strong indicator of survival. If a patient's parasitemia is very high, there is a real possibility that they will die before drugs can take effect. The MediSieve Filter can rapidly lower parasitemia, buying time for drugs to work. In a way, it turns back the clock, as if the patient had arrived at the hospital a day or two earlier. Eliminating infected cells from the blood, combined with existing drugs, will clear parasites much quicker. Mortality, symptom elimination rate, and time in hospital are all dependent on a patient's parasitemia and the rate at which it can be reduced – using the MediSieve Filter could not only save lives in severe cases, but also get patients home and back to school or work faster, even potentially reducing average treatment costs.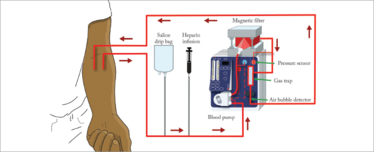 Tricky trade-offs
The idea is very simple, but the execution has been challenging. Other groups have attempted it but run into problems with the engineering. You're filtering a lot of blood, and you need to filter it many times over. Imagine you have a bucket full of dirty water, hooked up to a circulating filter. The water emerges sparkling clean from the filter, but you're putting it right back into the same dirty water. You need to filter more than twice the volume of the bucket to get meaningful cleanliness, and the same applies to malaria-infected blood. On top of that, you need to do it quickly – there's no point if it's going to take two weeks to process the patient's total blood volume. Add the need to be robust and affordable enough for use in some of the poorest countries in the world, and we had a pretty tough engineering project on our hands.
We had to balance flow rate with efficiency, without causing any harm to the remaining blood components, all while staying within medical limits on how much blood it is safe to have outside of the body at any one time. As it turns out, the speed at which you filter is much more important than the efficiency of capture, but like most engineering problems it's a delicate balance. We think we have the balance right, but we won't know for sure until we start testing it on patients.
If a patient's parasitemia is very high, there is a real possibility that they will die before drugs can take effect.
The entrepreneurial life
I knew early on that I wasn't cut out for life as an academic. A PhD was a way for me to carry out the early-stage development of the device, while retaining the security of a regular salary. By the end of my PhD, we had developed a good prototype, secured seed funding and carried out those first sink-or-swim trials on human and cultured samples in Colombia. With my thesis and viva completed, I was ready to start working full time on commercializing the technology as CEO of MediSieve.
Being the CEO of a start-up biotech company is vastly different to being a PhD student. I might be supervising lab experiments and joining a conference call with investors one day, and the next day doing the accounts and updating the website.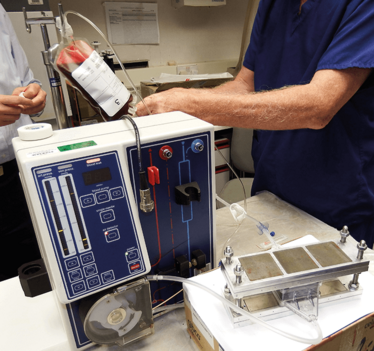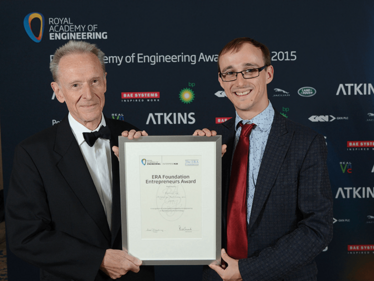 We have chosen not to have permanent premises or a lab. I have an office at home, but my strategy is to outsource almost everything. R&D and manufacturing is performed with sub-contractors in Essex, who also take care of all the regulatory documentation. The pre-clinical testing we're doing now is carried out at Northwick Park Hospital in North West London.
At the moment, I am spending a lot of time traveling around the world, meeting with our collaborators to plan forthcoming clinical trials, attending conferences, and consulting with doctors and scientists. Recently, I've been out to Tanzania to visit a potential site for clinical trials. It was a great opportunity to speak with experts on the ground, and the positive response from doctors and malaria patients was really encouraging. Many people love the concept and believe it could make a huge difference for patients with severe infections. Of course, I also meet some skeptics, who warn me of the technical and logistical challenges of getting a new treatment adopted, and who caution that many things look good in the lab, but fail to deliver in clinical trials. I am aware of the risks, but the overwhelming feedback is that this is definitely worth trying – if it could make a significant difference, why not give it a shot?
The device itself has undergone a medical-grade makeover since my PhD prototypes, and the current version is now coming to the end of pre-clinical testing. Next year, we hope to launch a very small Phase I clinical trial with healthy volunteers in the UK, before moving on to adult malaria patients with less severe disease. From there it's a step-by-step expansion towards our target group of critically ill – and often very young – patients. With such a vulnerable population, we have to take every possible precaution.
George Frodsham is CEO of MediSieve Ltd, UK.
Want to go from scientist to CEO?
Start thinking like an entrepreneur
It's a long transition from thinking like an academic, doctor or researcher, to thinking like an entrepreneur. There are some ways of thinking that will be uncomfortable at first. For example, nobody cares how your product works; only what it can do. In fact, it doesn't even matter much whether it works at all early on – you just have to prove that it could. Once you have capital behind you, you can hire engineers to make it work. So stop perfecting your technology, stop trying to push from 90 to 92 percent efficacy and start thinking about the real-world application of what you're doing. Is it affordable? Do people want it? Will people pay for it? How can you turn it into a commercial product? How much is that going to cost? And where are you going to start? These are the important questions for an entrepreneur.
Listen to advice, but don't feel you have to take it
People love entrepreneurs, and will bend over backwards to help you. Both academics and business people have been incredibly generous in meeting with me, offering advice and making introductions. Don't dismiss the views of suppliers or contractors – yes, they want you to buy something, but they are often highly experienced and genuinely want to help. I'm very aware of the fact that I am not a world expert in anything (except MediSieve itself), so it's up to me to gather as much knowledge as I can from people who are experts. My recommendation is to listen carefully to all the advice you get, but don't feel that you have to follow every word – after all, autonomy is one of the great things about running your own company.
My recommendation is to listen carefully to all the advice you get, but don't feel that you have to follow every word
Take advantage of free resources
The UK prides itself on encouraging science start-ups. I've had business training from the Royal Academy of Engineering in London and from the Royal Society of Edinburgh through their Enterprise Fellowship program – all completely free. Over a two-year period, I've taken courses in management, marketing, sales, and legal issues – everything about starting a company. That was incredibly helpful and changed my mindset to that of an entrepreneur.
IP is all-important
For anyone who is spinning a company out of a university, IP is of vital importance. Often, the university expects to maintain ownership of the intellectual property, and take a shareholding in the spin-out company. In our case we had a fairly lengthy negotiation with the university, which culminated in a deal that I'm extremely pleased with. Having a legal, signed contract, which makes it clear who owns what, is paramount before you start. Otherwise you can find yourself unable to raise money, and pouring your life into a project where you don't actually own anything.
Receive content, products, events as well as relevant industry updates from The Translational Scientist and its sponsors.