Tools & Techniques
Biomedical engineering,
Neuroscience,
Imaging
Ultrasound on the Brain
Creating a ceramic "window" in the skull could provide better access to the brain for diagnosis and treatment of neurological conditions
Roisin McGuigan |
Applying light and sound to the brain can have important diagnostic and therapeutic benefits. But there's one small problem: the skull. Ultrasound is a promising potential therapy for neurological conditions, such as Parkinson's and Alzheimer's – but the cranium reflects around half of the energy applied and absorbs most of the rest, rendering the approach ineffective.
A collaboration between researchers in the US and Mexico has hit upon a possible solution: a ceramic cranial implant, which is able to transmit ultrasound and light to the brain and has already proven its potential in bovine skull bone (1). We spoke to Guillermo Aguilar, Professor and Chair of the Department of Mechanical Engineering at the University of California Riverside, about developing the implant.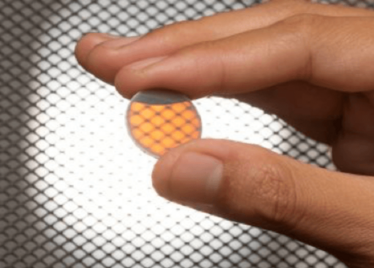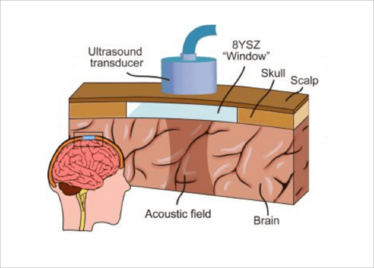 How did you get involved in this project?
I've always liked engineering, but I was also curious about biology and medicine. I chose to study mechanical engineering and, once I finished my PhD, I had the opportunity to work at the Beckman Laser Institute at UC Irvine, where I learned a lot about biomedical optics and lasers. This latest research was possible thanks to the formal and informal interactions I established with colleagues there who are experts in medicine, materials science and engineering, optics, and biology.
What inspired the approach?
It all started when my colleague and co-author Javier Garay showed me that he and his group were able to synthesize a material known as yttria-stabilized zirconia (YSZ) in a way that produced a macroscopic transparent disc (see Figure 1). He and I started by characterizing its optical properties, and I became very intrigued by it.
Having a transparent biocompatible material just millimeters in thickness that was as tough as bone gave us the idea of developing implants to replace bone in anatomical locations where transmitting light would be advantageous. And that's how the concept of an optical "window to the brain" started.
We also partnered with another colleague in Mexico, Santiago Camacho-Lopez, who realized we could use ultrashort laser pulses to write waveguides (conduits to light) on YSZ implants and further facilitate light transmission.
Our latest work was all about extending the capability of this discovery, as we recognized that it is also possible to transmit ultrasound, given the much lower porosity the material has relative to a cranium of the same thickness.
It sounds like an invasive method…
It is invasive, but it's important to note that our hope is that this material could be used for patients who will already have to undergo a craniotomy, and a portion of their skull will have to be replaced anyway. Such implants could help patients avoid future invasive procedures by having a semi or totally permanent cranial implant that provides optical and ultrasound access to their neurologist, for either diagnostic or therapeutic purposes.
How important was collaboration to your success?
The work was very much a multi-disciplinary and multi-investigator effort! Mario Gutierrez and Elias Penilla were the ones who led the execution of the work and the analysis. Synthesizing, polishing and preparing the samples for the US tests was yet another challenge – we didn't have all the materials we needed in Javier Garay's and my laboratory, so some of the experiments were carried out in Mexico City. Without the contribution of all the authors, this work would have not been possible.
Receive content, products, events as well as relevant industry updates from The Translational Scientist and its sponsors.
MI Gutierrez et al., "Novel cranial implants of yttria-stabilized zirconia as acoustic windows for ultrasonic brain therapy", Adv Healthc Mater, 6, [Epub] (2017). PMID: 28766896.