Tools & Techniques
Cell & gene therapy,
Animal models
Stemming the Flow
A gene therapy approach for hemophilia-causing Factor VII deficiency shows early promise
Paris Margaritis |
A new paper documents successful treatment of factor VII (FVII) deficiency in dogs, using pioneering adeno-associated viral (AAV)-mediated therapy (1). To find out more about the implications for human patients with the condition, we spoke with Paris Margaritis, lead investigator on the study and Assistant Professor at The Children's Hospital of Philadelphia, USA.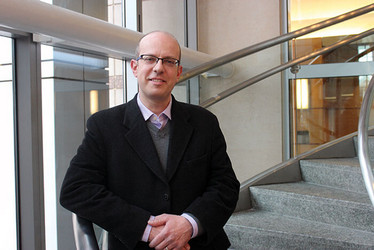 How did you discover the AAV therapy?
As a postdoctoral fellow, my work addressed the main complication in hemophilia treatment; namely, the development of inhibitory antibodies to infused protein therapy. In those patients, extensive clinical data showed the therapeutic efficacy of bolus infusions of recombinant activated FVII (FVIIa) in response to bleeds. We devised a method to generate a FVII transgene that would be secreted in the activated form – FVIIa. Using recombinant AAV vector gene delivery, we showed that continuous expression of FVIIa could ameliorate the hemophilic phenotype in animal models of disease. Here, we used the same delivery method to treat dogs with FVII deficiency but delivering the wild type FVII sequence as the therapeutic transgene.
How far is the therapy from clinical trials?
Combined, we believe that our current data make a good case for further work towards a clinical application in FVII deficiency. However, clinical trials are complex, and depend on multiple aspects besides the scientific merit and potential therapeutic efficacy. Certain technical limitations to AAV-based approaches still need to be addressed. The progress on gene therapy for bleeding disorders has been rather slow – even in the case of hemophilia B, a fairly common bleeding disorder – and the rarity of FVII deficiency further complicates the transition from preclinical to a clinical setting.
What are the limitations of AAV vectors?
Clinical data in hemophilia patients receiving AAV therapy suggest that there is an upper limit for how much AAV can be delivered without immunological toxicity stemming from the viral capsid. This is a limitation that needs to be carefully addressed as it affects the overall therapeutic efficacy of AAV-based approaches.
What impact could this have for patients around the world?
The reported efficacy in the recent hemophilia B gene therapy trials provides an important milestone and a research springboard for subsequent trials for bleeding disorders, including FVII deficiency. This is necessary before gene therapy becomes a potential alternative to the existing protein-based treatment. Unfortunately, the economics as well as the business model for this mode of therapy are still poorly defined. This is especially important for developing countries where patients may have limited access to healthcare. One cannot help but wonder how (or if) gene therapy is going to affect the treatment of such patients. Nevertheless, it will be truly unfortunate if this mode of therapy with a potential for life-long benefit is constrained to only to a small subset of patients who could benefit from it.
What's next?
Our team is currently exploring different research avenues to further improve our gene therapy approach for FVII deficiency. All of the components of gene therapy, such as the delivery vehicle (in this case, AAV), the transgene, and its transcriptional and translational control elements, are potential targets for improvements to increase transgene expression. A reduction in the AAV vector dose required for therapy would have a positive impact on the overall efficacy, safety, and perhaps the economics of a potential clinical application.
Receive content, products, events as well as relevant industry updates from The Translational Scientist and its sponsors.
OA Marcos-Contreras et al., "Sustained correction of FVII deficiency in dogs using AAV-mediated expression of zymogen FVII", Blood (2015). PMID: 26702064.