Research Field
Respiratory,
Neuroscience,
Drug discovery
A Breath of Fresh Air?
An epic Norwegian study confirms a new treatment direction for Parkinson's disease
Roisin McGuigan |
An epidemiological study of the entire population of Norway – some 4 million people – has found that the asthma medicine salbutamol may reduce the risk of developing Parkinson's disease (PD) by as much as 50 percent. Using data on 100 million prescriptions registered since 2004, the study investigated the effects of asthma and hypertension drugs on PD risk.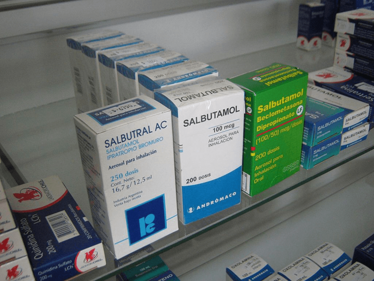 A classic symptom of PD is the accumulation of Lewy bodies – abnormal aggregates of alpha-synuclein. The study authors previously theorized that rather than try to clear the aggregate, or prevent the protein from forming Lewy bodies, they might be more successful in going further back in the process, and regulating the gene that codes for alpha-synuclein in the first place: SNCA. To do this, they screened 1,126 compounds – from drugs to supplements and vitamins – to see if they affected expression of alpha-synuclein. Three "hits" were found in beta-2 adrenergic receptor (β2AR) agonists that act as bronchodilators; the three drugs (metaproterenol, clenbuterol, and salbutamol) were then prioritized for further research. They also studied propranolol, a β2AR antagonist commonly used to treat hypertension.
In vivo and animal studies confirmed that the drugs affected the risk of PD, as did the aforementioned follow-up of the Norwegian population; interestingly, though salbutamol halved the risk of a person developing PD, pronanolol appeared to increase the risk (1). The team are hopeful that their findings will lead to new potential therapies, with the leader of the Norwegian prescription registry study, Trond Riise, commenting, "Our discoveries may be the start of a totally new possible treatment for this serious disease. We expect that clinical studies will follow these discoveries." (2)
Receive content, products, events as well as relevant industry updates from The Translational Scientist and its sponsors.
S Mittal et al., "β2-Adrenoreceptor is a regulator of the α-synuclein gene driving risk of Parkinson's disease", Science, 357, 891–898 (2017). PMID: 28860381.
University of Bergen, "Asthma medicine halves risk of Parkinson´s", (2017). Available at: bit.ly/2eI6chI. Last accessed September 5, 2017.