Outside the Lab
Clinical trials,
Professional development
The March Towards Trial Transparency
Around half of all clinical trials for medicines in current use have never reported results. With the support of the public, scientists, funders, publishers, and drug companies, AllTrials is on a mission to change that.
James Cockerill |
The selective nature of clinical trial reporting leaves healthcare professionals with large gaps in the evidence they rely on to make clinical decisions. It is a huge missed opportunity, putting patients at risk and causing trials to be needlessly repeated at great expense. We've known that it happens ­for a while now - the problem has been recognized in academia for at least three decades – but there has been little progress towards resolving it.
In 2012, British doctor, academic and science writer Ben Goldacre published a book called "Bad Pharma", which brought the issue of missing trial results to the attention of more people. In collaboration with Goldacre and five other organizations with a strong interest in the problem, including the Cochrane Collaboration and BMJ, UK charity Sense about Science launched AllTrials in January 2013. The campaign has a simple goal: for all clinical trials – past, present, and future – to be registered, and a summary of results made available. To date, over 88,000 people and 669 organizations around the world have signed the AllTrials petition. AllTrials is now working to raise awareness of the issue around the world: a US office opened last summer and resources have been translated into Spanish to bring the campaign to the hundreds of millions of Spanish speakers worldwide.
Support for the campaign, from scientists and the public alike, has already led to some notable successes:
February 2013: Pharmaceutical company GlaxoSmithKline (GSK) joined the campaign, committing to publish detailed clinical study reports from all of their past, present, and future clinical trials and to make anonymized patient-level data from those trials available to independent researchers.
April 2014: AllTrials helped change the law in Europe to improve clinical trial transparency. Thousands of supporters wrote to their MEPs to demand registration of trials, and from 2018 the law will require trials in the EU to be registered and promptly report results.
April 2015: The World Health Organization (WHO) held a public consultation about their position on clinical trial transparency and again, supporters wrote in their thousands. The WHO position paper stated that it is an ethical imperative to make all clinical trial results available – "past, present, and future."
July 2015: Investors managing €3.5 trillion in funds began asking pharmaceutical companies to move towards transparency. Transparency is important to investors – undisclosed information, such as unpublished data on the safety or efficacy of drugs, could lead to "surprises" affecting the value of their investments – and they have a lot of influence with companies.
July 2015: The AllTrials campaign launched in the USA.
March 2016: The American Medical Association joined AllTrials.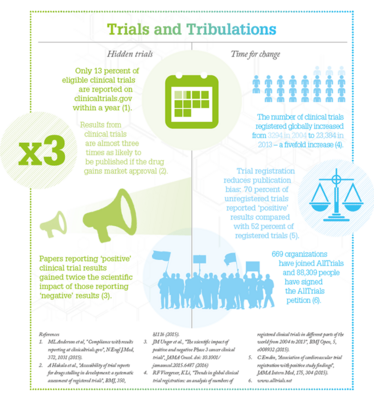 What's next?
The campaign has really captured people's attention, but there is a lot more to do. Some politicians, academics, and pharmaceutical companies first reacted by saying that the problem had been fixed, since researchers are now required to log their results in public databases such as clinicaltrials.gov and the new EU Clinical Trials Register, but a major issue is compliance with laws. The US Food and Drug Administration (FDA) Amendments Act of 2007 requires that all clinical trials are registered on clincialtrials.gov and results reported within a year; unfortunately, compliance is appalling. In a 2015 study only 13 percent of 13,000 trials registered with clinicaltrials.gov met the one-year target (1), while a 2016 study reported that just 35.9 percent of clinical trials at leading US academic medical centres had reported their results within two years of trial completion (2). The FDA are able to levy fines on organizations who fail to comply, yet no sanctions have been applied to date.
Even if trials are registered, the law in the US applies only to certain trials not completed by the end of 2007, while the new EU Clinical Trials Register will only apply to trials completed after it comes into force. Many other countries have no requirement for trials to be registered or their results reported. The result? We will still have big gaps in our knowledge of the drugs developed during the previous 30 years, which includes most of the medicines currently in use. Millions of people all over the world take these drugs, and having the results of all of the trials conducted on them is important to accurately determine cost-effectiveness and relative safety. A lot of that information is sitting on CDs, floppy disks, and even on paper – it won't be around forever. If we don't recover them now, any unreported trial results are likely to be lost forever. The law cannot act retrospectively, so we need public pressure and wholesale cultural change to push pharmaceutical companies to release past results.
The campaign has really captured people's attention, but there is a lot more to do.
To this end, AllTrials is working to set out what steps pharmaceutical companies, academic trial founders, medical journals and professional societies are taking to improve transparency so that we can all learn from good practice and encourage those who aren't doing enough to improve.
Big bad pharma?
A lot of the focus in clinical trial transparency has been on pharmaceutical companies. But academics are just as bad at reporting trial results. Academics fail to publish trial results for all sorts of reasons, including the fact that negative results are seen as less interesting than positive ones and attract less attention from journal editors and the wider scientific community. But the results from a trial showing that a treatment is equally or less effective than another are just as important, and there's little excuse for not at least updating a clinical trials register with the summary results.
Pharmaceutical companies attract criticism partly because some have reacted negatively to being challenged, suggesting that there are barriers to transparency in the shape of intellectual property and patient confidentiality. But some major companies are leading the way in tackling the problem. For example, GSK has gone beyond what the campaign is calling for and is making anonymized individual patient-level data available to researchers who wish to carry out additional analyses.
It's up to everybody who has a role in running and reporting clinical trials to fix this problem. If you haven't already, show your support by signing the petition at AllTrials.net. If you're a researcher, make sure that the trial is registered, and that the results get reported on time. If you have taken part in a clinical trial as a patient, ask where the results of the trial are being made publicly available.
James Cockerill is the former campaigns manager at Sense about Science, UK.
Receive content, products, events as well as relevant industry updates from The Translational Scientist and its sponsors.
ML Anderson et al., "Compliance with Results Reporting at ClinicalTrials.gov", N Engl J Med, 372, 1031-1039 (2015).
R Chen et al., "Publication and reporting of clinical trial results: cross sectional analysis across academic medical centers", BMJ, 352, i637 (2016).