Outside the Lab
Professional development
Hurdles and High Jumps – Chapter 4: Welcome to Your Shiny New Lab
Sabrina Carmichael – an experienced R&D scientist who's "been there, done that" – helps you settle into your new home in GMP city
Rich Whitworth | | 4 min read | Learning
Presented by The Translational Scientist × Cytiva
Chapter 4 brings us halfway through "Hurdles and High Jumps" – our interactive series of eight chapters that address the challenges you face on your own translational marathon.
Let's recap where we've been so far…
In Chapter 1, Tim O'Meara boarded his virtual helicopter to give us a high-level view of the journey ahead.
In Chapter 2, Eric Topol lent us his rocket and taught us to shoot for the stars.
In Chapter 3, Alex de Winter took us on a whistlestop tour of funding options – including the pros and cons of each.
You can read the series so far – and future chapters – in one central location: thetranslationalscientist.com/hurdles-and-high-jumps
For Chapter 4, we consider laboratory space as you transition from research to manufacturing.

"Our biggest concern is ensuring that our 'new' lab is fit for purpose – now and in the future."
– Anonymous survey respondent, July 2022.
Got other issues? Share them – anonymously – by completing our short poll.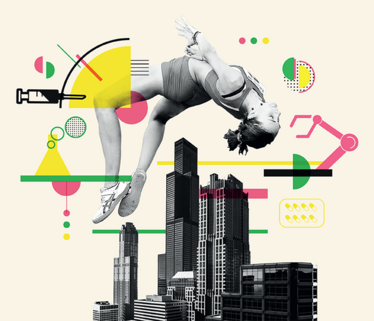 Could you share your personal experience of setting up a lab space from scratch?
When I joined GE Healthcare – now Cytiva – in 2017, my colleague and I were thrown in at the deep end – tasked with quickly setting up a cell therapy lab to start work on a couple of projects with very tight deadlines. In a story that may be familiar, we inherited a space that contained very little of what we actually needed. We faced a steep learning curve but came away with an excellent grounding for many other projects – internal and external – down the road. Here are three broad lessons:
1) Know what's in the realms of possibility! There will be certain things you feel you need or want to keep in house – but don't overstretch in terms of your skillset or space. Try to make wise decisions about what and when to outsource.
2) Go back to basics. If you're retrofitting a space, you'll need to consider some pretty fundamental requirements. First off, does the space satisfy your gas and power needs? In our new space, there were no gas lines, so we had to bring in cylinders. If you're running a process that lasts 14 days, you'll be sure to need an uninterrupted power supply (UPS) setup; we had regular outlets – and the need for UPS required some clever workarounds. If you're lucky enough to be starting with a blank slate and a wishlist, don't forget the basics.
Know what's in the realms of possibility!
3) Work within your planned timeline. As with skills and space, don't be tempted to stretch the time available to you and your team. In Chapter 1 of the series, Tim O'Meara put it like this: "Time is your most valuable resource. And it plays a role at every stage." If you have a small team, would you consider running a three-day assay time well spent? The answer is probably "no," as you have another 57 things to do. Again, outsourcing can be an attractive route forward – especially for analytical capabilities that demand highly complex and expensive instrumentation.
If someone is in the enviable position of starting with the blank slate and wishlist you mentioned, what advice can you offer?
I'm pleased to say I have experienced this as well. In the same building as my initial lab build, we also had some shell space – a truly blank slate, and we received a request for a new cell therapy FastTrak™ lab. I have to say, the lessons we learned the first time round paid dividends.
1) As I mentioned, start with the basics – the infrastructure – it's much easier to build it in at this stage. Don't forget power (UPS!), gas lines, and water requirements. And don't forget internet needs (something that may slip your mind in our increasingly connected world) – this is especially important if you plan on running automation software.
2) Focus on optimizing your floor plan to achieve your desired output. Put another way, how much equipment can you safely squeeze into the space to meet output needs for today and the future?
What other pointers can you offer to translational researchers looking to make the leap from research to manufacturing – and further scale up down the road?
First of all, I'd recommend speaking with some reputable equipment manufacturers in your space. Undoubtedly, they will have worked on similar projects in the past and will have the experience to guide you down a sensible and well-trodden path. Likewise – but I guess outside the true scope of this article – you may wish to consider partnering with a reputable contract development and manufacturing organization (CDMO); again, these companies have vast experience and a proven track record of solution finding (or troubleshooting, if you're a pessimist).
Either way, if translational researchers are at that key point of thinking about manufacturing and scale up, discussions will always begin with the process (and if you haven't figured out your process, your first step should be to talk with a process development scientist!). The process and the required output will dictate the space, skills, and equipment required. And when you enter this world of good manufacturing practice (GMP), the keyword is safety, so the conversation will quickly turn to closing your process. Undoubtedly, your equipment needs (and the utilization of floor/bench space) will change dramatically; you may find it strange that something you were entirely reliant on in a research setting may suddenly face obsolescence in manufacturing.
If translational researchers are at that key point of thinking about manufacturing and scale up, discussions will always begin with the process.
Specifically from a cell therapy point of view, your needs will also be different depending on whether you've chosen to go down an autologous or allogeneic route. For autologous cell therapies, you'll be scaling out rather than scaling up – in other words, you may move from one bioreactor to ten – each one representing one patient. For allogeneic cell therapies, scale up follows a more conventional biopharmaceutical pathway, with increasingly large bioreactors – from one to 10 to 50 liters, for example.
You've worked in both (translational) research and manufacturing lab spaces – besides the equipment are there any other major differences?
When I worked at Boston Children's Hospital, I was in an academic lab that covered basic, translational, and clinical research. The layout and regulations at play in that lab were incredibly different to what I do at Cytiva – like night and day. And perhaps the most shocking revelations relate to i) documentation, ii) the need to follow processes to the letter, and iii) more documentation. Regulators really like documentation, so you may need a change in mindset. GMP manufacturing is a whole different ball game to academic research – and I think it's never too early to start educating yourself to prevent serious shell shock.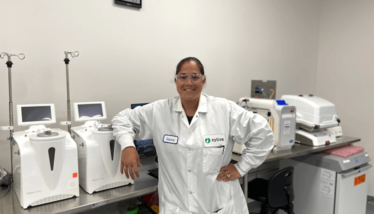 Meet Your Mentor, Sabrina Carmichael
After graduating from the Worcester Polytechnic Institute in Massachusetts with a degree in biology and biotechnology, I had a brief spell at Genzyme, working on prenatal diagnostics, before moving on to the Massachusetts Department of Public Health, where my interest in diagnostics continued but with a focus on HIV and hepatitis. I was then sucked into the world of platelet research for six years at Boston Children's Hospital.
I joined GE Healthcare (now Cytiva) in 2017 as a R&D associate – and that's where my very real-world experience of setting up a lab space began.
A couple of years later, I moved into a technical scientist role before assuming my current position in the CGT FastTrak Global Training team. There, I focus on the content and delivery of courses that cover cell therapy manufacturing processes and related technologies. And, given my experience within the company, I also work with process development scientists to initiate and lead new projects.
Sabrina Carmichael is CGT FastTrak Global Training Leader at Cytiva
In your current role, you often interact with customers in their transition to a dedicated manufacturing lab set up…
That's right. People typically come to me with a specific process they want to run – and we'll build the appropriate process for them. We begin by discussing how many cell expansion and harvesting systems they'll need to treat a given number of patients per year, but also explore the optimum setup, the analytical capabilities required, and so on.
Every request is unique – and it's fair to say we sometimes have to get creative to work around space constraints. That said, small does not always mean impossible. To prove the point, our enterprise lab in Marlborough fits the entire cell therapy workflow – including double stacked incubators, a biosafety cabinet, and a cell counter – in a space the size of a walk-in closet. During facility tours, I love showing off this particular lab as an example of the smallest workable space – a concept that takes us right back to the "realms of possibility!" After all, there is a limit to creativity – I cannot magically break the laws of physics no matter how enthusiastic a potential customer may be.
When it comes to would-be drug manufacturers, the spectrum seems to run from virtual biotech (total outsourcing) to independent teams who want to control every single aspect of the development of their beloved "baby." What's your seasoned view?
Tough question. I would say that CDMOs exist for a reason. They do great work and they have amazing capabilities – and they instantly remove a lot of head scratching and headaches. I've worked with several such organizations to expand or enhance their cell and gene therapy capabilities, and so I know they can offer scale, expertise, and equipment that is hard to match when working alone. The caveat is that you become a customer in a line of customers, which can result in (or at least feel like) a loss of control.
On the other hand, if you're willing to invest the time and energy into developing your own manufacturing capability, I say, "Good for you, and good for science!"
Importantly, your question includes the word spectrum; I think it's important to note that every product and process is different, and every team has a different skill set, so every company – whatever the size – will have different requirements. Feel free to have conversations with multiple potential partners, network with companies in similar situations, and use whatever support, wisdom, and resources you need to help you succeed. And, whichever route you take, know that you don't have to do it alone.
---
Are you enjoying the Hurdles and High Jumps articles? This informative series is just one way Cytiva is working to help translational researchers like you navigate scientific, business, and regulatory challenges.
Joining Cytiva's translational research community is a great way to stay informed. Tell us a bit about yourself in the form below and you'll receive relevant resources and guidance for your journey on the path to patients.
Receive content, products, events as well as relevant industry updates from The Translational Scientist and its sponsors.